A sneak peak at the new Avia trail racing shoe. From the Avia stand at Interbike
Created on 27 September 2008
Last Updated on 27 September 2008
1 Comment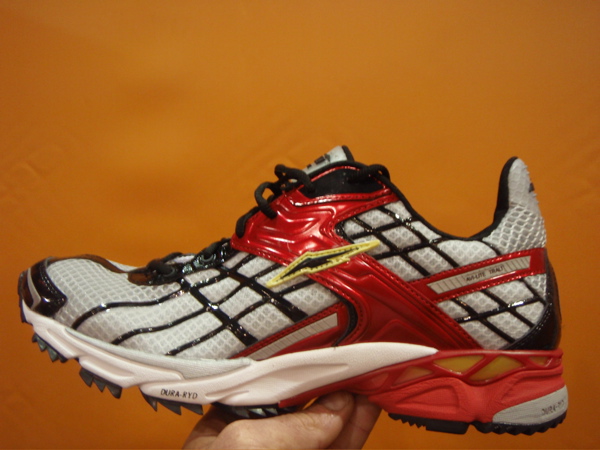 TaDAA!
This is the Avia trail racing shoe I helped design. Yes, trail RACING shoe. Avia Product Manager Ike Alvear extended the offer and said I could basically build my dream shoe for XTERRA racing. What an honour!
It seemed daunting at first – but with Ike's experience and guidance it was a lot of fun.
Usually "trail running shoes" are big, clunky and heavy. We aimed to make a shoe thats light and nimble, (around 10oz) but would stand up to the rigors of racing XTERRA's wide variety of off-road courses.
– The midsole is slightly beefier and firmer than the Avi Bolt (road racing flat) I have been racing with in the past. We kept the midsole relative low profile to lower the center of gravity- which helps avoid rolling ankles. A stiffer midsole also offers a firm platform when running over rocks and through deep sand. I had those last few miles of Makena beach running at XTERRA Worlds in mind!
– The sole is obviously very grippy. The mountain bike tire development lessons I learnt from Frank Stacey and Specialized came in handy here: Tall, rearward facing knobs bites into the dirt and provide forward traction in the forefoot, sideways traction for turning and off-camber running was also kept in mind. Braking traction in the rearfoot is achieved with aggressive forward facing knobs, and will come in really handy at XTERRA Alabama!
– The rubber sole is also flanged out a few mm to provide as large a footprint as possible. Just like a wide, low pressure bike tire- a wider surface area provides more traction and keeps you floating on top of the loose stuff instead of sinking in . Makena beach specific again. The soft rubber compound is tacky and improves grip on hard surfaces like rocks, roots and asphalt. (Heaven forbid!) Since rolling resistance is not an issue with running shoes, we dont have to worry about soft rubber slowing the shoe down…
– The sole will also have a composite plastic insert (where you see the white below) to firm up the sole and prevent injury from sharp rocks.
– The extended heel tab is made from grippy rubber and along with the extended rubbery tongue will help quick foot entry as you can just grab the two tabs and open the shoe wide. Plastic eyelets with low friction will have laces tighten evenly and smoothly. Yanks elastic laces will probably be included in the box.
-The tongue is gusseted on both sides to keep out sand and pebbles (great for sock-less racing) and also stops it from scrunching up when putting the shoes on.
– In order to keep debris out of the shoe the upper material kept the amazingly large holed breathable mesh, (see holey mesh in picture above) but we covered the holes by putting a very fine layer of strong, abrasion resistant mono filament mesh over the front and sides of the upper.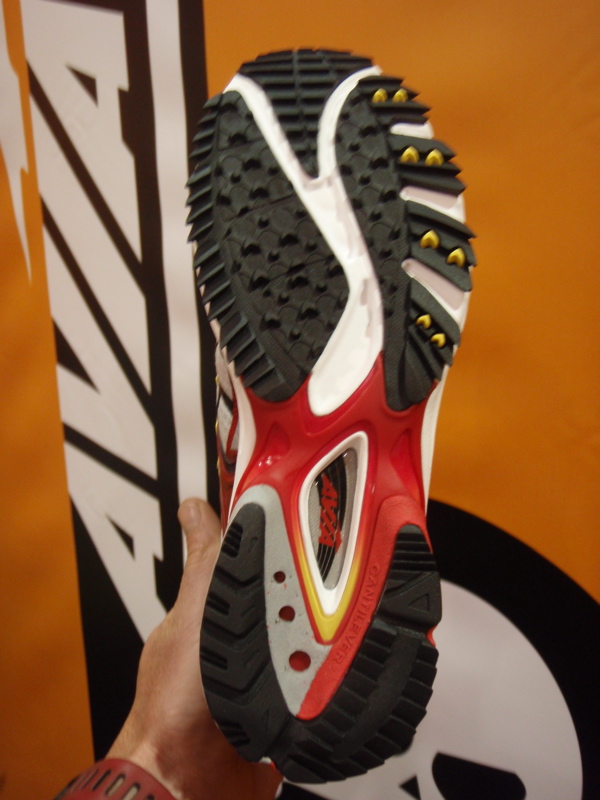 Tacky sole built for serious grip. A lot of thought has gone into the sole and I even borrowed from my experience with Specialized tire testing camp. This is not the final product and we'll do final trail testing before its "all systems go".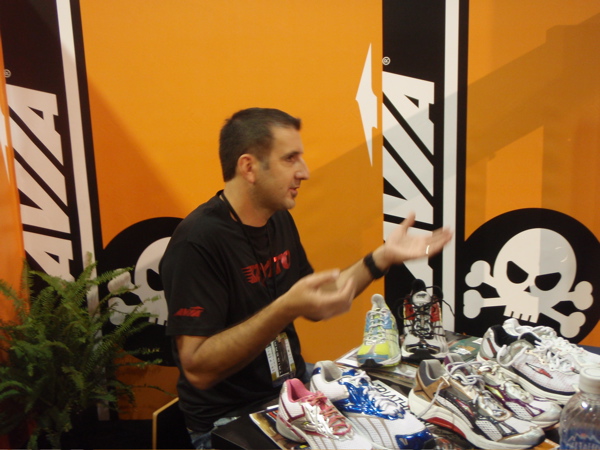 Ike explaining the intricacies of the 2009 range to customers – usually multi sport store owners. I couldn't help but grin with pleasure hearing Ike talk about shoes. Technical terms roll off his tongue passionately as his hands caress and fondle the shoe as he points out clever new additions he has made. Ike has been in the shoe design and manufacturing for 18 years and I find his sense of style refreshing. Since runners and the running industry is not known for their hipness or fashion sense.
Marketing Manager Ed has an interesting theory about what a good shoe should be in addition to quality: "If a running shoe looks good with a pair of jeans, it will be a popular one"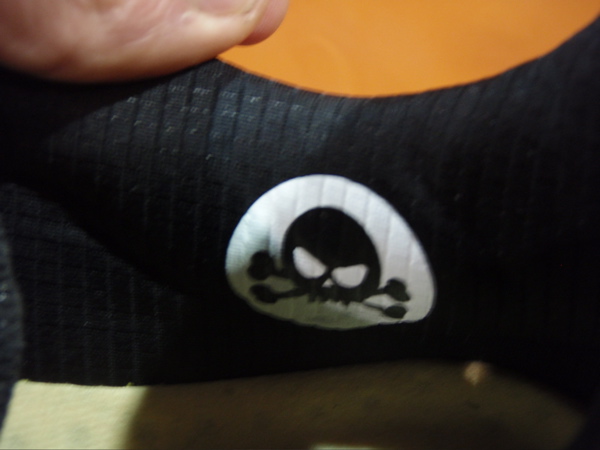 Small details like the Skull and Crossbones on the inside of the shoe adds a touch of Avia quirkiness and gives a nod to The King of Duathlon – Kenny Souza. See previous post.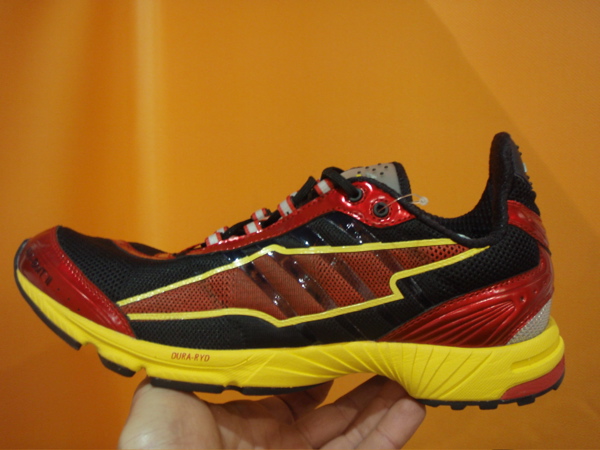 The 2009 Avia Bolt racing flat. This shoe is built for triathletes. (Of course it will work for road races too.)
– For fast transitions it features an extended, grippy heel tab and a rubber tab at the top of the tongue- designed for grip and to tuck your Yanks or laces under so they dont flap around when running at blinding speed.
– The tongue is sewn to the bottom and medial side of the shoe – to prevent the tongue from floating around or getting scrunched up in transition.
– The laces runs through small plastic barrels (low friction) which makes opening the shoe wide and lacing up quickly faster and more evenly.
– Elastic laces are likely to be included in the box, as they are key to a fast triathlon shoe. While runners will prefer traditional laces.
Of course there's the special breathable mesh and the Dura RYD sole I'm not qualified to talk about yet.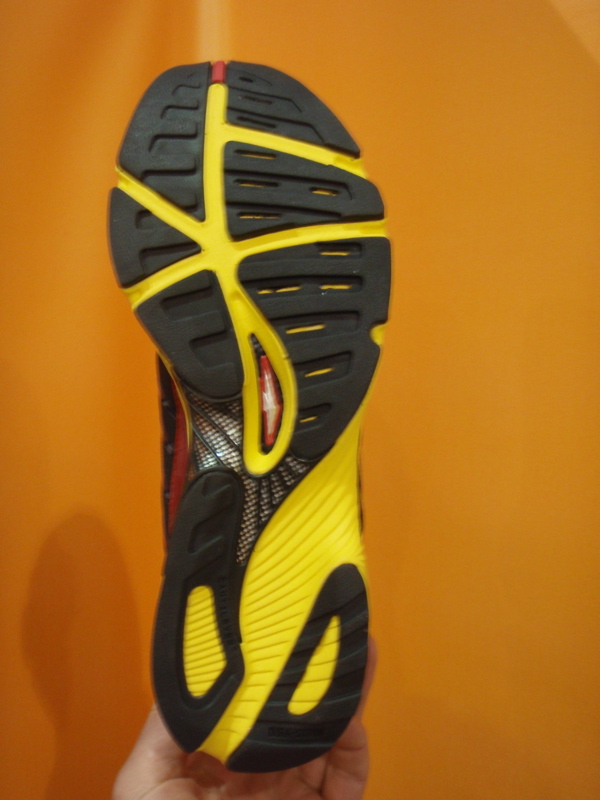 This one has "Speed" written all over it.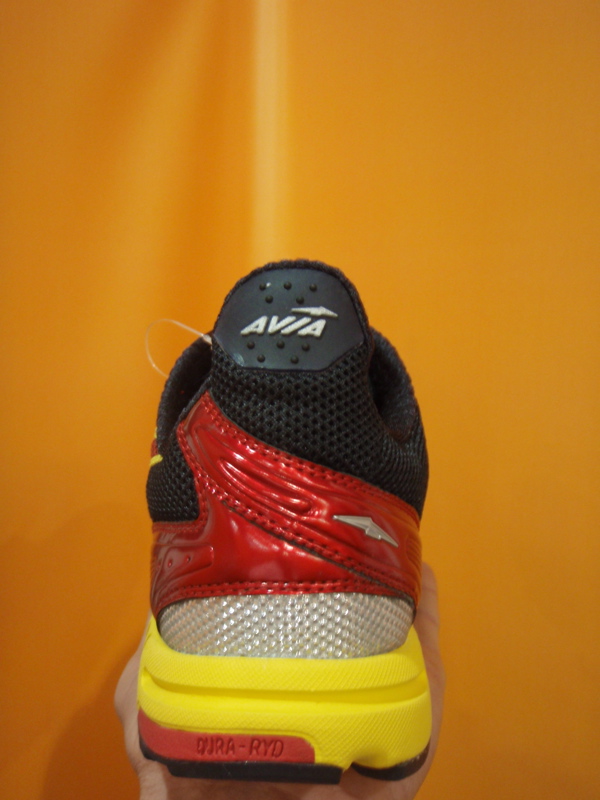 Note the grippy rubber heel tab and swanky styling.