Caveman on Specialized 29er Epic, finishes 2nd at Thrilla Cyclo Cross
Created on 30 September 2010
Last Updated on 30 September 2010
1 Comment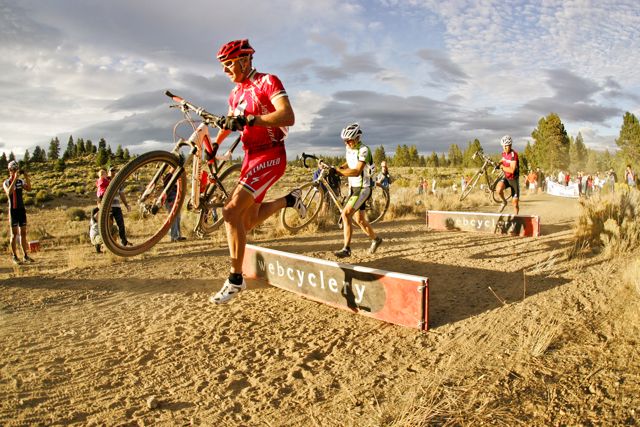 Conrad Stoltz -my 1st Cyclo Cross experience. On a mountain bike. Ok, a Specialized Epic 29er, but still a mountain bike.
If you were expecting the XTERRA USA write up, its coming. Actually, this is the 1st of a 3 part series of the 10 days leading up into XTERRA Nationals, explaining my interesting preparation, but mostly just mouthing about how amazing my 29er Epic is- which I did all 3 races on.
When I rode my 1st 29er it was love at first sight. I was so impressed with its rock riding ability I put this bad video on youtube in 2008 and it has over 36 000 views already. Wish I was smart enough to put some voice or music over it.
Then I was all fired up for 29ers, I wanted to race them. 1st time I did was at XTERRA South Africa in 2008.
Then I got onto to those poor MTB engineers at Specialized, I started nagging at them for a race 29er for over 4 years, and  I bet when they see me coming they quickly duck behind a planter or into the ladies toilet. But finally the bike came, and frankly, it blew the doors offa my expectations and Specialized is yet again, THE leader in the industry.
Back to the story:
I decided to jump into the 3rd leg of the much lauded Thrilla CX Series in Bend, OR. Bend is a bike crazy town- half the community watches these midweek 'cross (that the cool way of saying it) races and the other half races. And I leanrt that a true 'cross fan can be a scary thing….
I felt like a bit of a doofus on the start line with my mountain bike with balloon tires, Command Post and water bottle. Suspected I'd be booted into touch, seeing that I have only once ran a barrier before and ended up in ER…. (another sad eggbeater pedal story)  Thus I lined up 2nd row-  behind Adam Craig sporting a proto Di 2 mech and carbon sew ups on a "$10 000 'cross bike". I was eyed suspiciously, like an escaped leper. Then Ryan Trebon yelled "Hi Conrad" from the front and I felt better.
We took off, and once I found my pedal, I made up places with a mix of  "power through the bad line, brake late and cut in last minute" moves. I hung with the 1st group. Trebone took off.  I just had to show off my mad skills by losing my front wheel in a loose corner, and with my one foot out moto style, did a wild "tank slapper" move which involved my inner thigh getting burned by the front wheel?! I saved it, (not sure how) but 80% of the field saw it and I thought:  "Man, I ruined it for XTERRA athletes world wide"
I also realized bunny hopping the fences (the ones in the pic above) in practice is one thing, but doing it in a race is something completely different. There is a reason no one else does it. After a few laps I got the hang of this cross thing and attacked the pack of 6. Those 1.95 Renegade roll like crazy. (although they dont corner like crazy in loose gravel- so pick your battles)
Soon I caught up to Ryan Trebon, whom I know as (the other tall guy) from mountain biking, but someone told me he is actually the ace at 'cross. Like National champion and stuff. I thought that way my Specialized team mate Todd Wells. Anyway, the guy is shit hot, 2 inches taller than me and has less fat than a can of Diet Coke . I was surprised how easy it was to keep up with him. In fact I went around and started putting more wood on the fire in front. Then we hit this really steep hill, you have to run every lap (a lap is about 8min and the race is 45min plus 1 lap) I run up this powdery wall, baby steps, huffing and puffing, carrying the bike, good thing I'm a triathlete, I can run. Then Ryan comes FLYING past me, chuckling at me for not "shouldering my bike." (always thought "shouldering" is an illegal rugby move)  When I got to the top Ryan was gone. Even the dust has settled. He probably made 20 seconds on a 30 second run. Thats when I understood why he went so "easy" back there. I got 2nd by 11 seconds, but somehow I think he just played with me…
Thrilla Cyclocross results – Men A
---
| | | |
| --- | --- | --- |
| 1 | Ryan Trebon | 51:35 |
| 2 | Conrad Stoltz | 51:46 |
| 3 | Chris Sheppard | 52:00 |
| 4 | Cody Peterson | 52:31 |
| 5 | Brennan Wodtli | 52:34 |
| 6 | Eric Martin | 52:55 |
| 7 | Adam Craig | 53:51 |
| 8 | Tim Jones | 54:05 |
| 9 | Brig Brandt | 54:36 |
| 10 | Ben Thompson | 54:44 |
---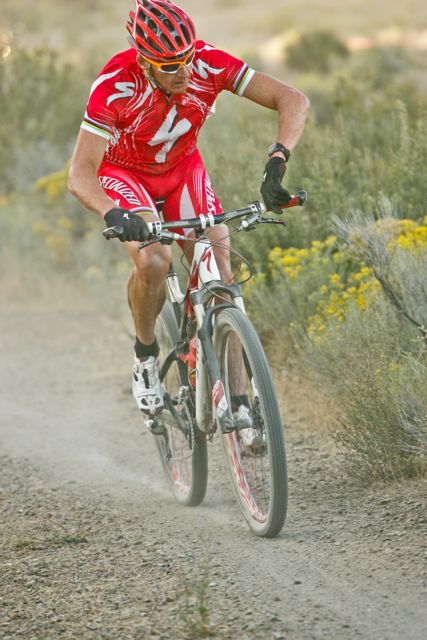 Is it Beer O clock yet?
Checking race time and heart rate on my Suunto t6. Been training for a 2h30 event- cant hang out above 160 for too long.