How many World class triathletes raced at Club Mykonos? (South Africa)
Created on 03 June 2009
Last Updated on 03 June 2009
11 Comments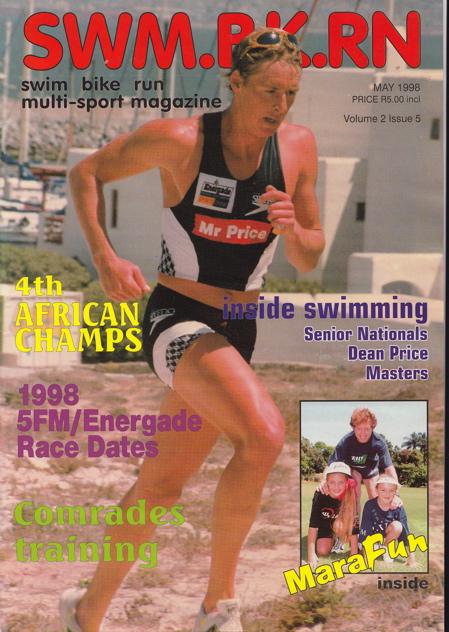 Winning All African ITU title at Club Mykono 1998
Club Mykonons on the West coast of South Africa is 2 hrs north of Cape Town. It used to be a quiet, quaint rip off of  the village Mykonos, Greece.  The ocean always freezing- the swim was in the marina- for one of the turn buoys you had to go between the hulls of a huge catamaran.  Once you go inland it gets very hot, glaringly bright, with the wind always pumping.
I raced here the 1st time when I was 16 and my last time was All African Champs 2004- part qualification for the Athens Olympics. I wish I had kept count of all the races I did there, certainly some epic battles and great memories. For many years there was a Naked swim mile at midnight. They'd send a hat around, people put money in and the one year I made twice as much money winning the Naked mile as I did winning SA Champs.
Careful observers will note the "Conrad with puppy fat", the crazy yellow zebra stripes Oakley Racing jackets, "trendy" Speedo race kit and the custom sewed sponsors logos. -Before fancy printing was available, I was/am an expert seamer.
"Mr Price" is a low budget clothing store, and there was a famous clause in the bonus schedule- if your hand covers part of the name, you are not eligible for your press bonus. Hence they were known as "Mr Pric. (Assuming your hand covers the "e")
Previous Club Mykonos triathletes I can think of: (add names and send pictures if you have any)
Jan Frodeno, (2008 Olympic Gold) Simon Lessing,(5x ITU World Champion) Jan Rehula, (2000 Olympic Bronze) Tim Don,(2006 ITU World Champ)  Stuart Hayes, Lieuwe Boonstra, Kent Horner, new era kid Dan Hugo even the indomitable Irish gobshite Bobby Behan.
The old gaurd, when I was a junior:  Kevin Richards, Jaco Loots,  Keith Anderson, Andreas Lombardozzi, Trevor Meyer, Chad Gordon, Harald Zumpt, David Hyam, Cameron Jones, Mandy Dean, Hanele Steyn.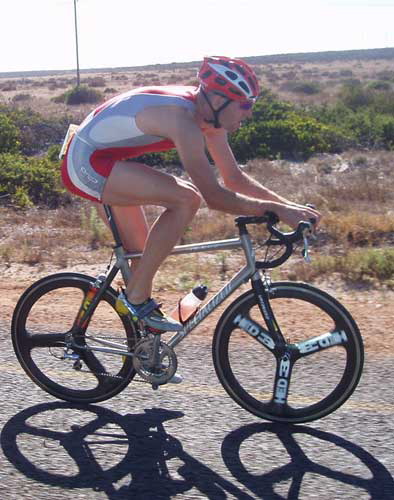 Bobby Behan battling the wind on the stark West Coast landscape.