Ironman World Championships, Kona, Hawaii. Pix by Conrad Stoltz
Created on 17 October 2010
Last Updated on 17 October 2010
1 Comment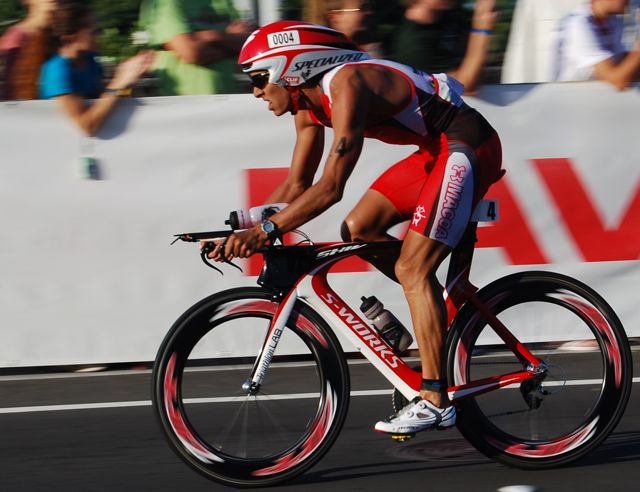 Macca piloting his Specialized SHIV out on the Kona Ironman course. By Conrad Stoltz (I'm showing off my mad camera skills,  hoping to someday get paid for this writing/photography hobby of mine).
The reason I havent blogged in a while is the lack of interwebs connection at our Kona condo. Been knocking out some amazing power numbers on the bike, and other than recovering and eating,  havent found the energy to go blog. I find it hard hard to sit and blog from a coffee shop (Lava Java of course)  squinting at the screen in the sun, with the stunning ocean views, Big Island pork pizza in one hand, typing with the other and ogling the sea of finely chisseled/ tanned/ tattoed/ coiffed Ironman bodies streaming by.
Back to the race. I watched the entire pro mens' marathon from the comfort of my bike. What an experience! Once in a life time, really. I had raced Macca since the early 90s and now we are Specialized Team mates. I first raced Andreas Raelert at the World Nature Games at the Iguassu Falls in Brazil when he was just a pup. With this perspective, watching this showdown live in person will be something I'll never forget. Especially the last 10km when Raelert was about 25 sec down, clearly flying and gaining at every step. Macca seemed to tire, but he put on his determined face and dug DEEP. It took Andreas 6k to close the gap, and when he did, Macca raised his game, dug deeper and picked up the pace.
To the outsider, Andreas was clearly the faster runner. Dan Hugo asked my prediction. We (the Specialized Team) were clearly worried. I said: "Raelert looks better, but there is something about Macca. Never write him off when he's in front. There is something about his head. Somewhere, somehow, he'll play games and try to find a way to screw with the German's head."
They went up the last hill shoulder to shoulder, shook hands and said a few words. "Goodonyamate"  And Macca threw a surge- made 5m but Raelert closed it down right away. Shoulder to shoulder again up the last climb- the scene of the big showdown between Mark Allen and Dave Scott- when racing in Speedos was still cool. Less than 2k to go, at the top of the short, steep Palanii Drive. Macca took off like its an ITU race. Raelert, moments ago, still poetry in motion, suddenly looked really uncomfortable- jarring with every step, with Macca free falling down the steep grade-  and opening a small gap. Here the race got hard to follow on a road bike- I was cutting across grass, parking lots and weaving through hundreds of people cheering like mad on the sideline. I followed Jessi Stensland's line untill she clipped something with her camera bag and literally lost the chase. I raced urban cyclo cross style to watch the finish and missed seeing the last 1km, but heard from Dan, Raelert completely folded at the bottom of the hill and lost a lot of time to the finish.
What an amazing showing lads. It will make one spectacular TV show. Raynard Tissink did South Africa proud with and excellent 5th.
Here is a selection of pictures I took of the pros at Ironman Kona. (some with my iPhone, unfortunately) Got to see Clif Bar's Gary Erickson play the trumpet with the Clif Bar band. Wow. What a party.
To see names and descriptions, click on the pix and follow to flickr.com

Created with Admarket's flickrSLiDR.