Last call for the Caveman – an XTERRA tribute
Created on 04 September 2015
Last Updated on 04 September 2015
0 Comments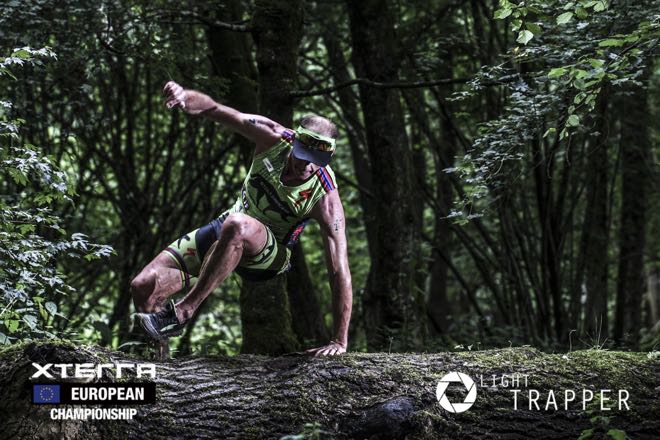 We're currently in Cahors, France on a final farewell tour/training camp – dont have time to blog, so I shamelessly copied and pasted from XTERRA newsletter:
LAST CALL FOR THE CAVEMAN
"I'm pretty sure this it," explained the most iconic XTERRA athlete of all-time, Conrad Stoltz, about Sunday's European Championship race in England being his last XTERRA.
"I don't have regrets.  I'm 41, I had a fantastic career, have lots of memories and have done a lot of neat stuff," said Stoltz, adding that the best thing that ever happened was the birth of his baby girl Xena in the off-season. "She changed our lives in a huge way.  Everything else pales in comparison now that we have this little bundle.  My retirement means we can really spend a lot of time with her and we literally have her with us all the time.  Being a Dad is indescribable.  It's awesome."
Awesome could also describe Stoltz' career and his impact on the sport.  Well beyond his unprecedented 51 career championship wins (53 if you count Buffelspoort) and seven world titles is a gentle giant beloved worldwide for his warm smile and welcoming demeanor as much as his fearless downhill skills.
Stoltz is a rare gem of a person – genuine, caring, smart, and giving.  There are so many great examples showcasing the strength of his character.
Flashback to Tokyo, Japan, 2011, at one of the busiest subway stations on earth. Stoltz noticed a woman struggling with her luggage at the top of a stairwell at the exit. While hundreds of commuters quickly navigated their way around the woman, the Caveman worked his way through the crowd – like a fish swimming upstream – to help her, grabbing the cumbersome luggage and carrying it down a massive flight of 100 stairs to the bottom.
Over the past 15 years XTERRA has had the pleasure of seeing him perform countless acts of kindness – from signing autographs and providing simple words of advice to full-blown mentoring gigs and visiting sick kids at Children's Hospitals.
Marita Oppenheimer, an avid endurance athlete who was spectating at XTERRA Worlds a few years back, discovered the Caveman's "coolness" firsthand. Afterwards, she wrote this note to TEAM Unlimited CEO Tom Kiely to share her story…
Sunday was just one of the best days of my life. I found Conrad Stoltz' water bottle at the bottom of the last bike hill, and felt like I won the lottery. He is such an inspiration. I mentioned to my friends that, wouldn't it be great if I could somehow return it to him, because it seemed like a special bottle, unlike all the others.
Hours go by, and I'm sitting alone on the lawn of the Ritz in the shade, and I was emailing my Husband to let him know how much fun I was having, and then I decided to prop up my special water bottle on the grass, and take a photo, just in case I lost or left it somewhere. So, I took the picture, and I hear a voice behind me, saying "Oh, so you like that water bottle, eh?"
And I turn around, and there are two men, and a woman standing there, and I responded "Yes, look at it, look whose name is on it! It's my favorite guy."
The woman says, "Is the note I wrote you still under the bottle?"
And then, I realize that it's Conrad Stoltz. I couldn't believe my luck. Under the bottle his fiancée (someone mentioned later in the day, that they were getting married) had written, "My champion, I love you."
Oh my gosh. So I told Conrad, I was really hoping all day that I could return his bottle to him, because I felt it was a special bottle. He said, "you keep it, I have more".
It just brings tears to my eyes, still. Then, they asked if I'd like a picture with him. I couldn't believe it, because I never would have had the nerve to ask. Then we all hugged, and I wish you could have seen my face after they left. It was amazing. The best part was, that they were just the nicest, sweetest, most kind people, ever. – Marita Oppenheimer
To put Marita's note in further perspective, Conrad had to pull from Worlds on the run that year – he couldn't breathe. DNFs are not part of his culture, so you can trust his disappointment was off-the-charts, but despite this – his character remained true.
Perseverance. Conrad has that in truck loads. When in 2006 he broke his back pre-riding the course at Nationals, he didn't give up. He actually showed up at the race two days later to support the rest of the XTERRA Tribe, arm in a sling, pain pursing through his body – but his character was holding strong. The next year he won everything, including his third world title.
In 2009 after slicing his foot open before the start of the East Championship, while retrieving a buoy that had gotten unhooked, he didn't give up. He won that race.
In 2010 when he wanted to go home and be with his Dad while he was in a fierce battle with cancer, his Dad told him no, to race and make him proud. He did just that by winning his unprecedented fourth XTERRA World Title in his honor. ESPN paid tribute to his effort by naming it a top 10 play.
Conrad's dad said, "I once showed him a dung beetle that was trying to roll his ball of dung up a very steep incline. The ball kept rolling back, but the beetle kept retrieving the ball and pressing forward. I said to Conrad, "That's how one should live one's life. One never gives up."
Trust that his retirement has nothing to do with giving up, it's more about moving on to start the next chapter of life with his lovely wife Liezel and baby Xena. It's a move we can all admire.
Watch clips from our interview "Caveman in Cranleigh" on Facebook.com/XTERRAplanet.