Previous South African triathlon greats. Follow up on Club Mykonos post below
Created on 05 June 2009
Last Updated on 23 November 2012
2 Comments
Jason Bailey from Cape Town sent these pics from the early 90s- complete with top 5 results…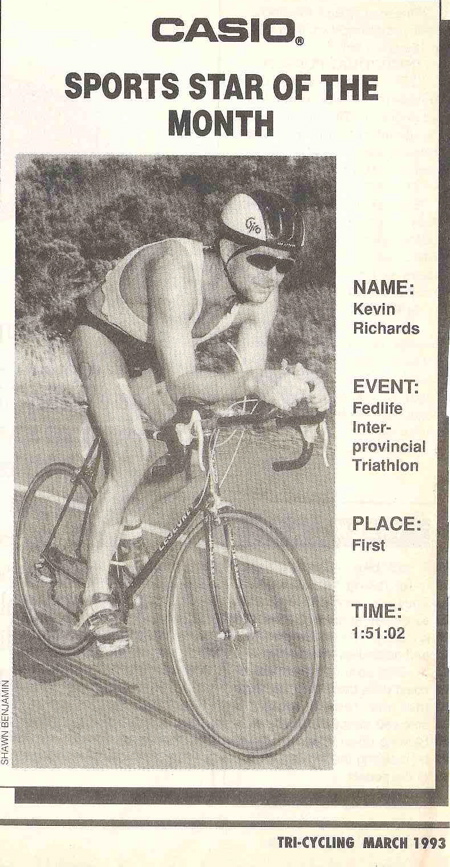 Kevin Richards is probably the athlete who had the biggest influence on my racing career. When I finished high school in 1991 he invited me to go race in France with him. (In a small town in the South West called Cahors) It was amazing, training and racing with Kevin, being a pro, the racing and living in the very foreign country. I was a really protected, ignorant young boy from Apartheid South Africa- could hardy speak English or boil an egg. To to laundry I filled the bathtub with water and walked on my clothes till its all nice & grey. Once I washed my bike in the shower and Kevin almost kicked my ass.
Kevin swam on the USA Scholarship programme after high school and after a few years in triathlon was the no 1 athlete in South Africa about 3 years in a row. He also lived and raced with the up and coming Simon Lessing for a few years prior and had great Simon Lessing and Mandy Dean stories. He was also famous for his no nonsense approach to equipment. He rode that black steel Lejeune frame with Shimano 105 parts for as long as I knew him. Kev, do you still have it? Also note the Jet Stream drinking system behind the seat post. It was a rubber football bladder inside a neon coloured neoprene bag fixed behind the seat. A tube would bring the spout to the handlebars, you'd bite on the nozzle and high pressure water would squirt into your mouth. Before the race you had to pump your drink into this bladder with a special pump which used to make this cheee cheee cheee sound. Of course the nozzle often flew off and your drink would go everywhere.
In South Africa he was affectionately known as "Bergie", which refers to the bums who live in Table Mountain around Cape Town. Of course money was never a problem- there was none!- and Kevin could sleep anywhere and live on fresh air. Thats the culture I was weaned into and I think thats why the Yanks started calling me Caveman. I lived for free in a basement whose door couldnt close and traveled to races with baked potatoes in my pockets.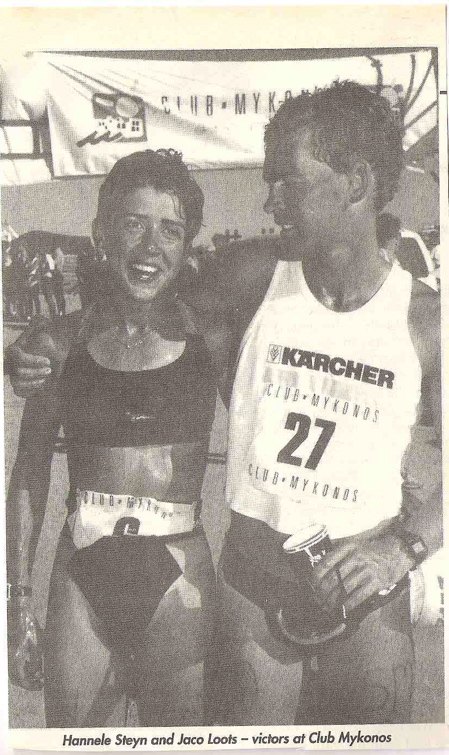 Jaco Loots and Hannele Steyn won the SA Champs at Club Mykonos in 1991. It was a super windy day- Kevin had a 4 min lead off the bike but blew up and ended up walking. Jaco also raced in France with us and was a really strong cyclist- he later raced for the town of Carcassonne. Hannele turned to MTB racing.
This race (1991 SA Champs) was probably my biggest break through. At 16, I missed a few days from high school, and placed 3rd in the senior race. After that, I couldnt concentrate much on school work…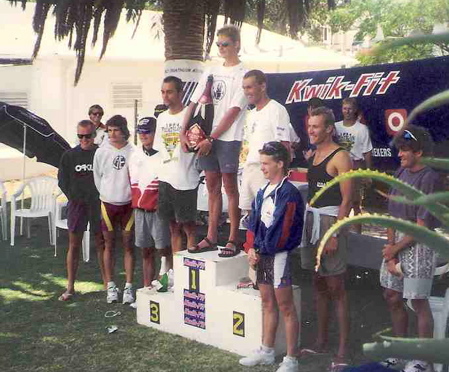 Thats me on the top step. My first "big" win racing with the big boys.
1994. This was the inaugural All Africa Champs in Gordons Bay.  Jaco Loots and I sprinted for 1st, and Kevin finished 3rd. 2km from the end the 3 of us were running shoulder to shoulder- all wearing the same provincial kit EP Tri (Eastern Province) That was fun. I stepped on a sea urchin during the low tide swim, and had to dig for the spines afterward.
I cant remember the name of those ugly sunglasses. The Oakley Frogskins just came out in outrageous lumo colours. I couldnt afford Oakleys , hence the cheap look a likes.
Something which hugely impressed me was THAT bottle of champagne. It was huge and the bottle empty was worth R800. ($30) (Probably more than the prize money) So I was told we had to give the bottle back before the end of the party. I tried to pop the cork and spray the champagne, but the bottle was so heavy Kevin had to help me shake it. Of course the EP boys gave the drinking a good go. (we were a formidable team back then) One would hold the bottom of the bottle and the drinker would crouch down to tilt the neck. Off course they were held down by "friends" and spillage was in the order of the day.  We tried our best to empty that bottle, but couldnt- so we poured the last of it in an ice bucket for the waiters to take home…
Good memories…
From left to right: Donovan van Gelder, Micheal Daley, Harald Zumpt, Kevin R, me, Jaco,Chad Gordon, Trevor Seinen and Mark Marabini from Zimbabwe.