Stoltz ready to Defend ITU Cross Tri World Title
Created on 19 May 2012
Last Updated on 19 May 2012
0 Comments
XTERRA Press and Media Center
Stoltz Ready to Defend ITU World Title
05/18/2012
[I'm quoting directly from Trey Garman's report]
Nobody in the sport of off-road triathlon has won more world titles (5) or championship events (44) than Conrad "The Caveman" Stoltz. On Saturday afternoon at 4pm (CST) the 38-year-old from Stellenbosch, South Africa will look to add to his collection by winning the XTERRA Southeast Championship and ITU Cross Triathlon World Championship at the same time.
"My form is good, my training has been going well, and I'll take this race as serious as any other world championship," said Stoltz, who has four XTERRA World Titles and won the inaugural ITU Cross Tri World Title in Spain last year.  "I want to put my stamp on it and win a few world titles while I can."
Stoltz has already stamped his name all over the venue at Oak Mountain State Park in Shelby County, Alabama – one of his all-time favorites – proof of which can be found in his five straight wins here dating back to 2007.
"I have some great XTERRA memories on this course.  It's the most fun course I've ever done.  This year will be different, however, because the pros are racing a smaller loop and multiple laps, not the epic 19-mile single loop the age groupers will race on."
Indeed, the elite bike course features three 10K laps around Double Oak Lake, a staple of the ITU spectator friendly format.
"It adds a great dynamic, and it's great for the spectators.  They normally see us at the start line and not much after that, but now they'll be able to go out on the course and watch us at some great places."
Along with the multiple lap format comes a different style of racing and a different strategy.
"I think passing is going to be one of the hardest parts now," explained Stoltz.  "Each bike lap takes about 25-minutes and 20 minutes of that is on narrow, twisting single track where it is almost impossible to overtake, so hopefully the people in front of me are going to be friendly."
Based on year's past there aren't many in the field that will need to be "friendly" as Stoltz has historically come out of the swim with or near the leaders.  There are a few super fast swimmers, however, who will try to make their mark in the 1.5-kilometer two lap swim in the warm water of Double Oak Lake – including American Craig Evans and British Aquathon World Champ Richard Stannard.
"For some reason I swim better without a wetsuit, so I've had good swims here," said Stoltz. "I'll push the swim as hard as I can and hopefully get out with the leaders and smash the bike from there.  I know a couple of guys, especially Craig Evans (from Hendersonville, Tennessee) who's basically the home boy up here, and he's really motivated and a great swimmer.  I've done a couple laps with him on the bike and he really knows this course well, so I think everyone is coming prepared knowing what's going to happen."
There are a lot of people in the industry that think they know what's going to happen as well, but truth be told no one will really know until about 6pm on Saturday.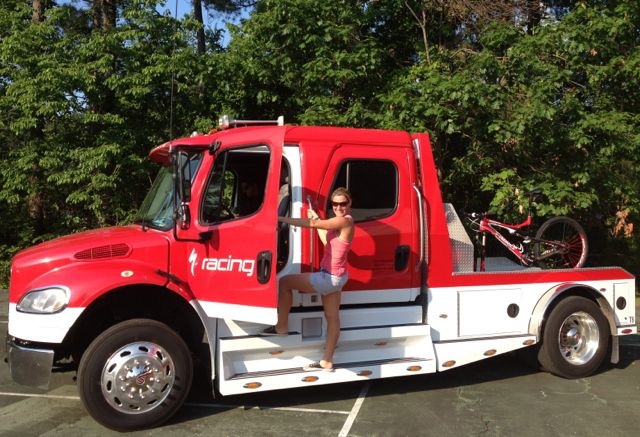 Liezel getting ready to rumble too.
Specialized is here in full force and has been of great support. My bike is shiny every day, it had fresh fresh tires  and we've had some laughs with the crew. Avia and Squirt lube are also out here. And of course a contingent of the South African team.
Lets go racing!