Suunto interview with the Caveman
Created on 21 August 2013
Last Updated on 15 December 2013
1 Comment

Photo Credit: zooom.at / Markus Berger
Fighting for Five: Conrad Stoltz on the hunt for his next XTERRA World Championship
He has the resting heart rate of a bear in hibernation but the VO2 max to rival any elite athlete. He's run, swam and pedaled through more (and more gruesome) injuries than he can remember. But he's not Superman – he's the Caveman. 39-year-old Conrad Stoltz is one of the most recognized and decorated triathletes there is – and with good reason.
With 20-plus years of racing experience as a professional, he has 52 XTERRA career wins and is a four-time XTERRA World Champion. He also has three ITU Cross Tri World Titles and is a two-time Olympic triathlete.
"The first year I did the XTERRA World Championships in Maui, I had a flawless race and won by 10 minutes," says Stoltz. "It felt so easy, I told myself I was going to win this thing five times in a row."
That was in 2001. Since then, the Suunto ambassador and South African athlete has had many trials and tribulations in his quest for 5 XTERRA World titles on this course littered with sharp lava rocks and Kiawe thorns: flat tires, mechanicals and crashes turned the 'five titles in a row' into four very very tough XTERRA Championship wins.

Born and raised in South Africa, Stoltz started his racing career at age eight when he ran distance events at track and field and cross country and raced BMX. By age 14, he had entered his first triathlon and subsequently turned pro upon graduating from high school.
His early years as a pro athlete were far from glamorous. "For 10 years I lived hand to mouth, slept on benches, train stations, and in a Police station once (willingly) before a race, I've also won races on cheap, borrowed bikes and hand-me-down equipment."
ROAD TRIATHLON BOILS DOWN TO HOW MUCH PAIN YOU CAN TAKE. WITH XTERRA, THERE IS ALSO THE ADRENALINE AND SKILL REQUIRED

It's this hand-to-mouth lifestyle combined with a reputation testing equipment to the limit that earned him the nickname 'the Caveman'. He got into XTERRA after the Sydney Olympics in 2000- where he broke away on the bike with Olivier Marceau, and ran in 2nd place till just 2km from the finish.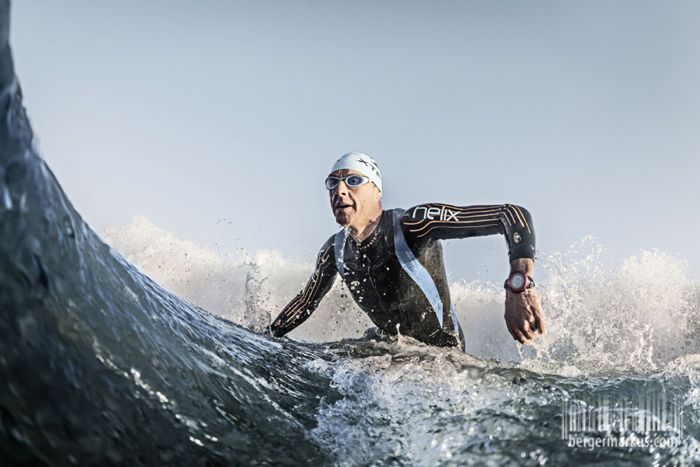 Photo Credit: zooom.at / Markus Berger
"After Sydney I was a bit burnt out and thought I'd just do one or two XTERRAs just to clear my head and have some fun. But I fell in love with the sport and the laid back cluture at my first race. "I'd been racing tri since 1988 and it really boils down to following the white line and how much pain you can take — you just go as fast as possible. But with XTERRA there's a whole lot more to it. For a start the courses vary hugely, from volcanic slopes and beaches in Hawaii, to the mountains of the Alps, to the forests of Brazil.
"That adds a new strategy to it, from your suspension set-up to what tires you select, pacing and certain courses favours certain athletes. The more technical courses takes 4-5 rides to memorize. Its the technical aspect which makes it interesting. Along with the lactic acid, you get a lot of adrenaline and that's what makes it fun. Not to mention the stunning locations"
Stoltz continued to compete at both  (road and off road) disciplines for a few years but after participating in the Athens Olympics he chose to focus on XTERRA.
So far, that self-promised fifth title looks tantalisingly in sight. "It's been a great season," says Stoltz.
However, it didn't start out that way. Although famous for his ability to ride through pain, he suffered an injury that nearly derailed his plans.
"I cut my hand when I slipped and crashed in a dry river bed at the first XTERRA in Las Vegas," he says. "I kept on racing, even though I was bleeding like crazy- there was an 11th USA Series Title on the line"
Five stitches later and the tough triathlete was good to go, right? Not quite.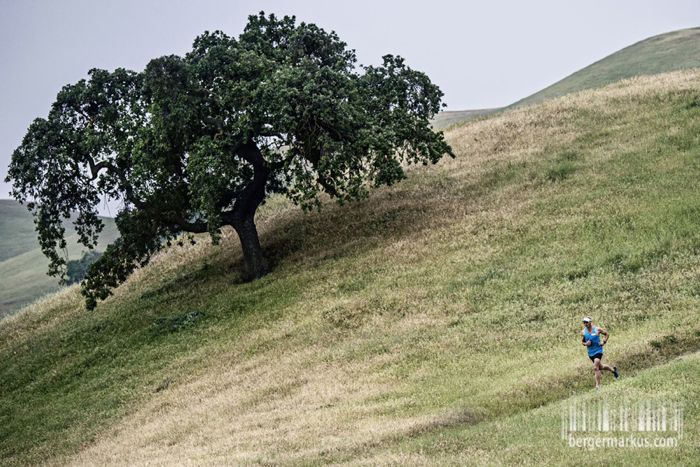 Photo Credit: zooom.at / Markus Berger
"The next week I raced the Cross Country and Short Track at Sea Otter Cycling festival and I simply couldn't hold the bar properly. I was sitting to one side, favoring a leg. The sacroiliac joint seized up, causing a severe calf injury which finally surfaced at XTERRA Alabama. I should have stopped right away, but I ran three miles like that, worsening the injury even more, then opted to DNF and step away from the USA Series points chase."
Eventually, however, the Caveman realized it was in his best long-term interest to throw in the towel. Pulling up was tough for Stoltz, who has been the US National XTERRA champion 10 times over the last twelve years. But it was the right decision.
He bounced back even stronger to win XTERRA Brazil, the ITU Cross Triathlon World Title in Holland — the third time in a row — and in late July he won XTERRA Italy.
"Brazil was an extremely tough course," he says. "There were some long sections where you had to carry your bike up muddy 25% climbs and then there were 36% drops at high speed. Irecovered well from my injury and it was a pretty comfortable win. At Worlds in Holland I had a one minute lead coming off the bike, I held that lead through the run, and in the last 2km I could ease up a bit and enjoy the moment. XTERRA Italy was very tough for me. Really a climbers course- featuring over 1150m of vertical gain on the 30km bike and 550m vert gain on the 10km "run". It was a very painful experience. I went into it a little wary of Nico Lebrun (the mountain goat who designed the course) but I pushed myself hard, and in the end, I won by four minutes- which was satisfying."
All focus is now on this year's XTERRA World Championships in Maui. To get there Stoltz has been following a vigorous training regime devised by his coach in Cape Town, Ian Rodger, which he follows with the help of the Suunto Ambit2 S GPS watch.
"It's crucial that he's able to monitor all my training from my swimming lap times to running pace, wattage on the bike, so being able to see all my training on Movescount.com is vital.
"The Ambit 2S is also Caveman proof," he jokes. "Some of my training takes place is some pretty wild places. Mud, salt water, crashes and bumps are routine."
However he does it, Stoltz knows he has some serious preparation to do for his appointment with Maui. "The course is all about everything I'm not good at- lots and lots of climbing, high humidity and low skill requirement" he says. "That means I've got to work even harder to win here."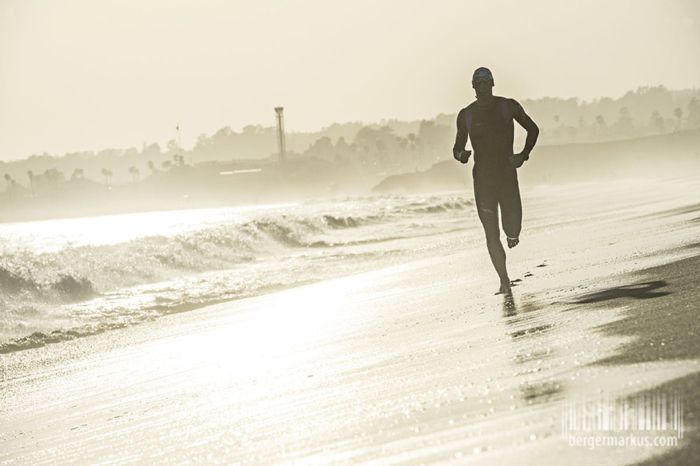 VITAL STATS
NATIONALITY: SOUTH AFRICAN
DOB: 23 Oct 1973
HEIGHT: 6' 2ft / 188cm
WEIGHT: 83kg
VO2: 76
RESTING PULSE: 34
Stoltz trains for approximately 23 hours a week but it's all about the quality, not quantity. Here's an example of some of his training sessions.
Swim:
20x 100m @ 1'10 with 20 sec rest.
"It's about 3.5km including warm up and warm down."
Run:
warm up 15 mins @120bpm
45mins @ tempo 150-155bpm
10min cool down
"We found that for me, Tempo running is very beneficial."
Bike:
10x 5min hill repeats at 470w: 2.5-3hrs work-out in total.
"It's a hard session- mentally and physically."