Posts Tagged 'ian rodger'
Created on 07 February 2011
3 Comments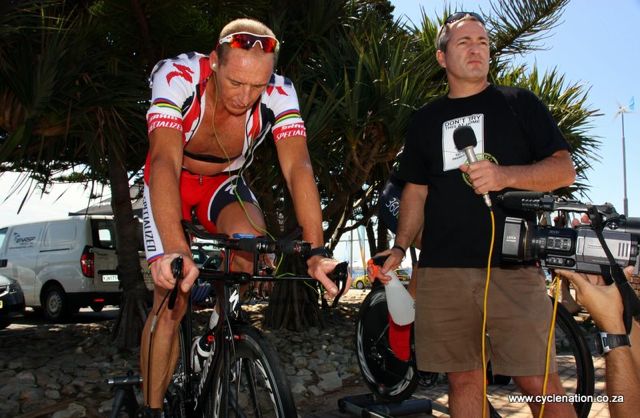 Warming up for SA TT Champs while coach Ian Rodger deftly wields the microphone and spray bottle. I will have to wait for the TV show to hear what he said- Jack Parow was pamping in the iPod.
More pix from CycleNation.co.za
I was quite disappointed in my ride.  Like I said in the previous post, we needed a few more weeks to sort out pacing, position and most importantly more sustained efforts. (as opposed to relatively short intervals) A warm up race or 2 would have helped. I started conservatively,  but when I tried to build from 10km, the hammies started catching fire- I turned on 415W avs, but on the way back my hammies were raging and I had to back off the pace till about 25km- losing a lot of time, confidence and combativity. (ie I psyched myself out and gave up. Not the usual Caveman routine)
At 30km Daryl Impey (winner) caught me by 1 minute. By then my hamstrings had recovered a bit, and I rode with him relatively comfortably till the finish. 390W avs at end. Pretty pathetic considering what we'd done in training.  We learned a few things and will come back stronger and better prepared. (probably US TT Champs)
2nd to 5th was only 20sec apart and I was only 2.5sec out of 2nd. I'm sure I could have puckered up and found a few seconds. Like I once heard a French coach yell at a youngster: "You do not think DURING the race, you think AFTER the race." Old guys still learn lessons.
Results from Cycling SA website.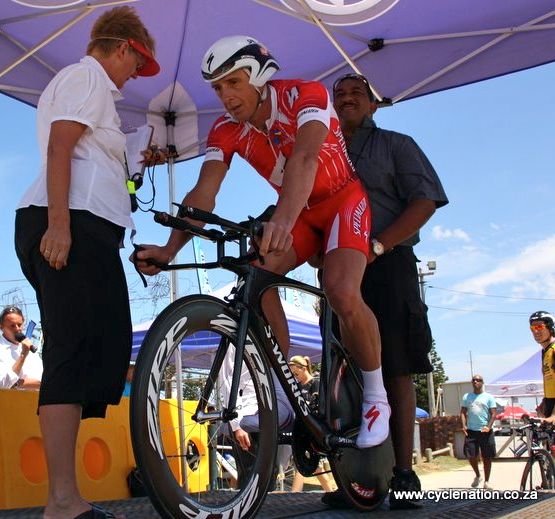 5,4,3,2,1, partez*
A power file for the bike geeks
Created on 11 August 2010
1 Comment
Got this new toy from the good folks at Specialized. Quarq power meter which I run through a Garmin Edge 500 ANT+ unit. I'm new at using these tools. All I really need is Watts and interval time, but this thing is loaded with info- easy to get lost. Disappointed in the vagueness of the power curve on "Charts". The "Splits" page has so much info- can one edit out items like speed, temp and calories to make space for the important stuff?  Was perplexed by the ghosting of the "Lap" button- it pressed itself a few times- hence the random intervals in warm up and cool down…  I'm using the free Connect Garmin software.  Suggestions welcome- Facebook is easiest way to communicate.
Coach Ian Rodger cooked up this session:
Workout: 8x5min hills at 440-450 W.
Actually it was 10 reps, but it was 93Deg F (34C) and 1500m altitude (5000ft) – instead of the 1100m (3500ft) where I was supposed to do this session- always leave a rep or 2 in the tank- didnt want to blow a gasket.

Pre season lab testing with my coach, Ian Rodger
Created on 07 July 2010
0 Comments
Filmed at the Specialized Team camp held in Stellenbosch in January 2010.
XTERRA Las Vegas, volume II
Created on 29 April 2010
18 Comments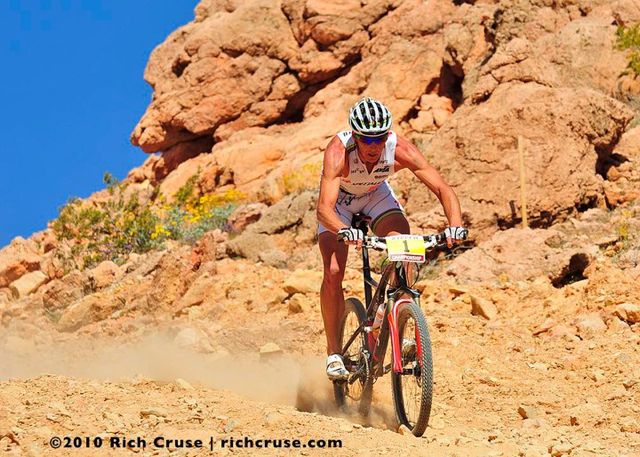 More pics from  XTERRA Las Vegas coming in.
A couple of good qoutes this week:
From my coach Ian Rodger: "Training is like fighting a Gorilla. You don't stop when you're tired. You stop when the Gorilla is tired." "or maybe its more like fighting Chuck, you dont stop till Chuck is tired…"
When I couldnt remember my rental car company. Just like I often forget my airline company, hotel room # etc so I made this one up…
"The rental car company is Hertz. Just think of what the race is going to feel like Sunday: its going to Hertz!"
This one time, at band camp, I rode 300 Watts for 3hrs
Created on 23 February 2010
8 Comments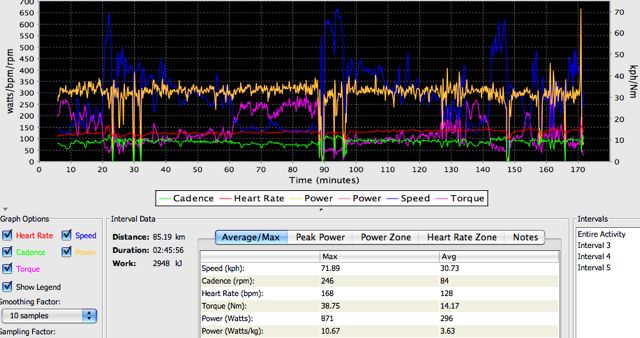 Since I ate my helmet, (and embraced training technology when we started base training about a month ago.) I have been enjoying training with my Power Tap thoroughly. (Rent your Power Tap today from the folks at Saris/CycleOps, South Africa)
For Valentines' Day, my coach Ian Rodger gave me 3 hrs at 300 Watts. So romantic.  I rode to the top of Franschoek pass, and being new to trying to keep a constant power, I'll tell you, trying to do 300W downhill through the road works in Pniel or down the main street of Franschoek with tourist drivers, speed bumps and couples on Valentines dates, gave a new meaning to "adrenaline"…
Also, going down the pass I tried to shape myself into a parachute, because the 53×11 was not enough. Fortunately those 28mm Specialized Armadillo tires at 60psi helped slow things down and smooth the road a bit.