The Greyton Classic weekend.
Created on 14 July 2015
Last Updated on 09 October 2015
0 Comments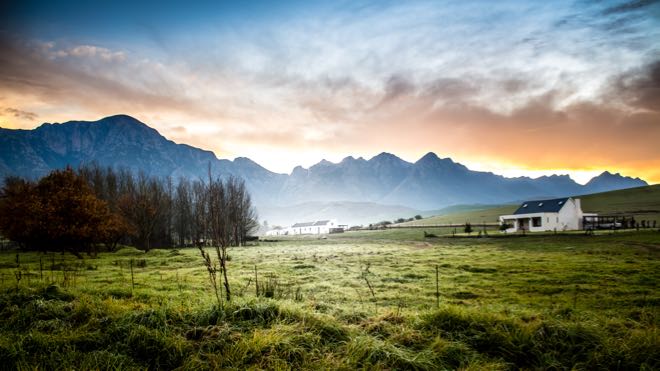 The Oaks Estate.  The setting for the Greyton Classic MTB race is quite idyllic, when it comes to scenery and ambiance. Central to the race is the Ehlers family, who owns and runs the wedding venue and working farm, which is centered around their beautifully restored Cape Dutch farmstead. Gert's Nguni cattle roam the hills and Liezel and I picked Pink Lady apples till our pockets (and cheeks) bulged.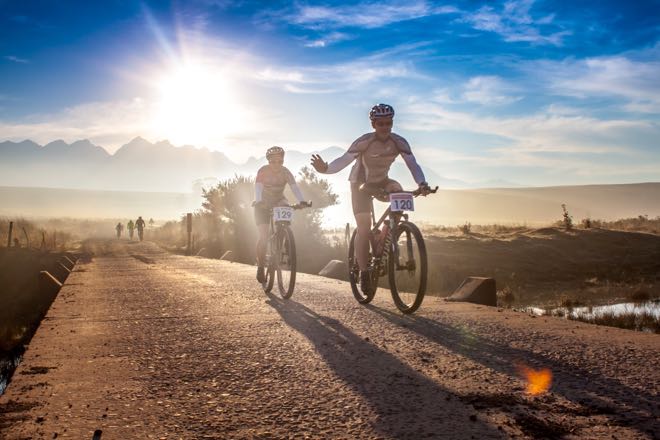 The Greyton Classic event has been running for 8 years now, and is Greyton's largest event of any kind of the year. Riders, runners and duathletes could choose from a number of distances and routes. Racing was as fast or mellow as you made it- but the relaxed vibe, stunning scenery and sunny weather was omnipresent.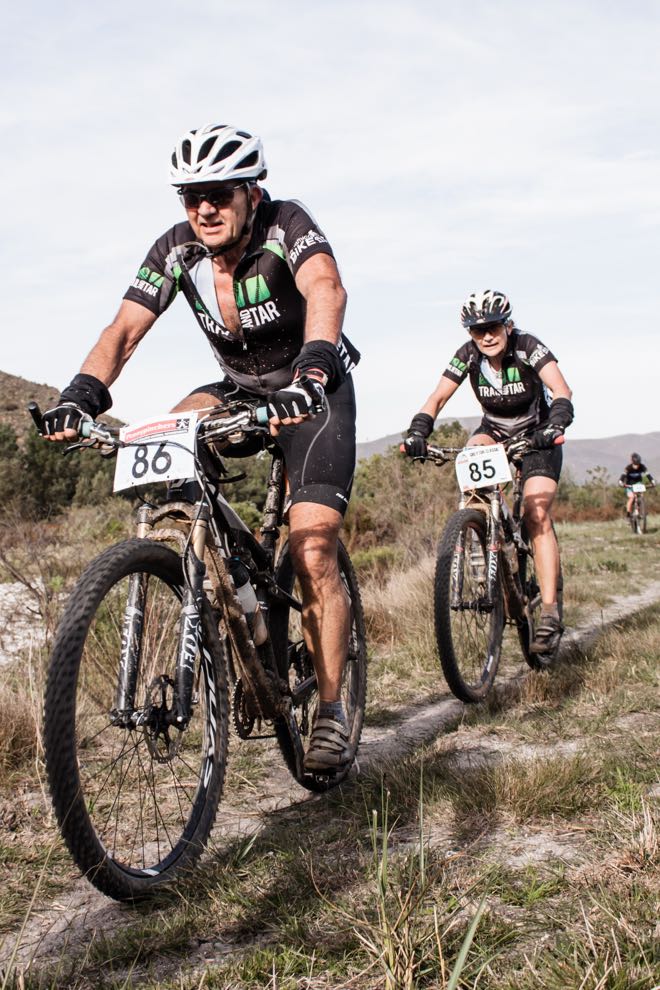 Young and old made most of the long weekend for a pedal through the iconic Greyton countryside.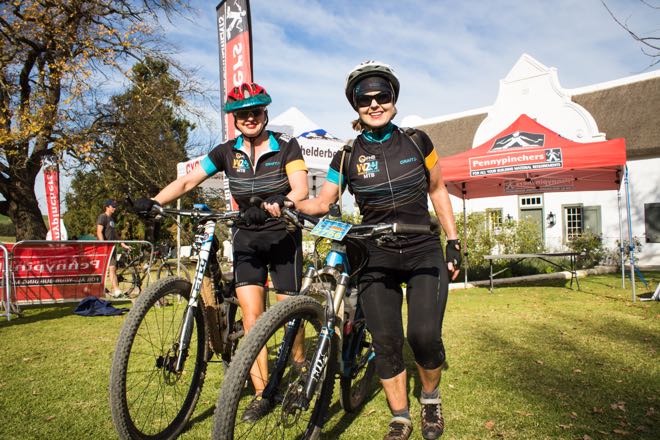 Riders of all abilities socialized, ate and imbibed from the numerous stalls at the old farmstead.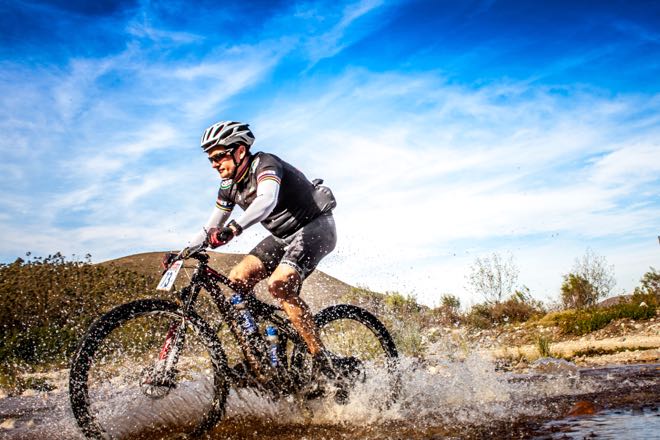 I did the long route- 65km- with plenty of hills, fun water crossings, winding single track and apparently, more rocks than the Caveman's tyres could handle. Riding for "hard training" on well worn tyres on my Specialized Camber, I was in the chase pack behind Heyns and Lill when I got the first of 3 flats at 40km. From there on, I made more friends and took more pictures than KOMs on Strava.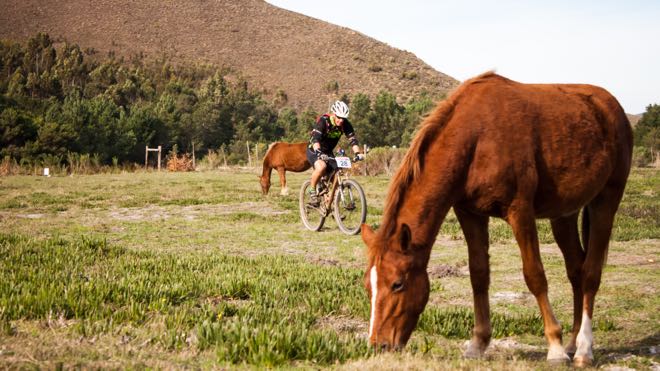 Along the way there was also horse slalom,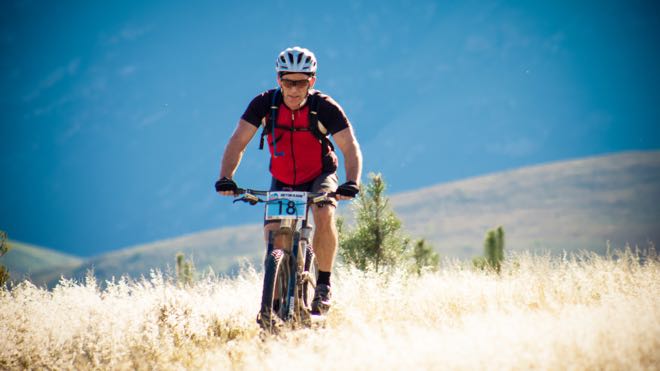 or "alone time" with your thoughts and nature…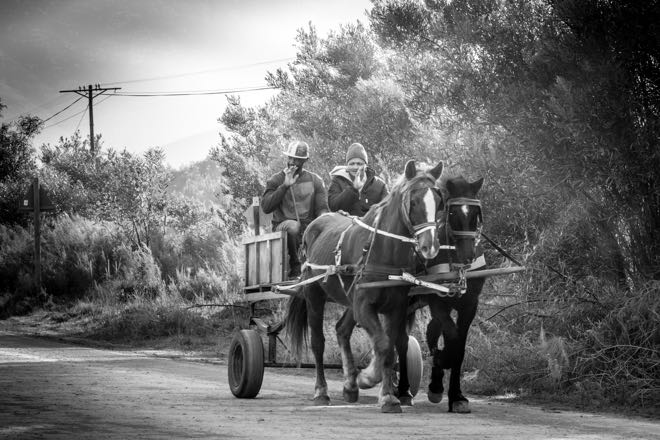 Friendly fellow road users reflected the slow lifestyle typical to this area -which is one of its appeals to me personally.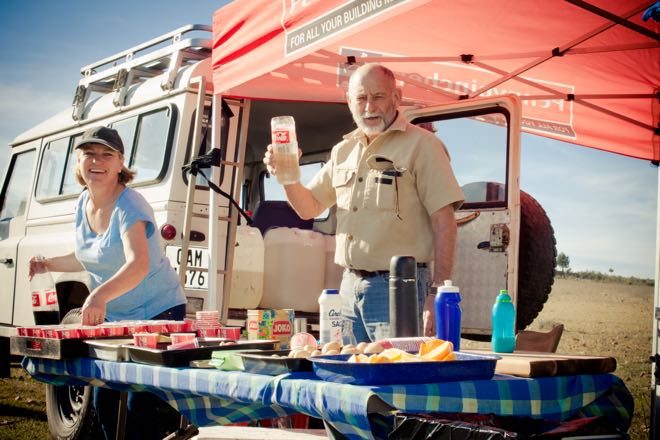 The local community really got behind the event, this farmer manning the last aid station said his "R5 per cup of Coke" business was booming!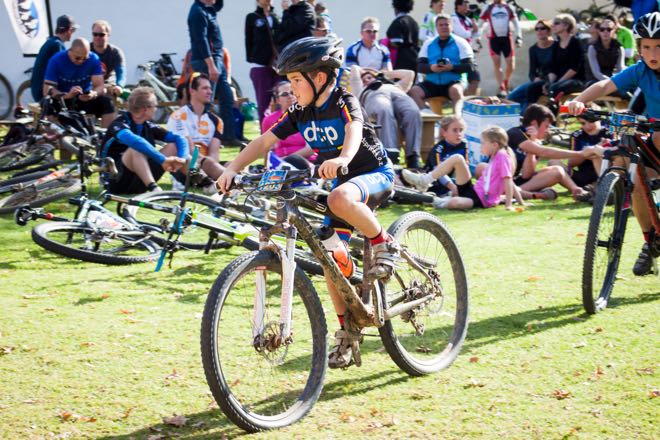 Back at the farmstead, the kids race was a hit, and catered or a wide spectrum of skills & age…
Start them young… Which South African child did not ride this plastic "BP bike" sometime in their life?! Mine was yellow.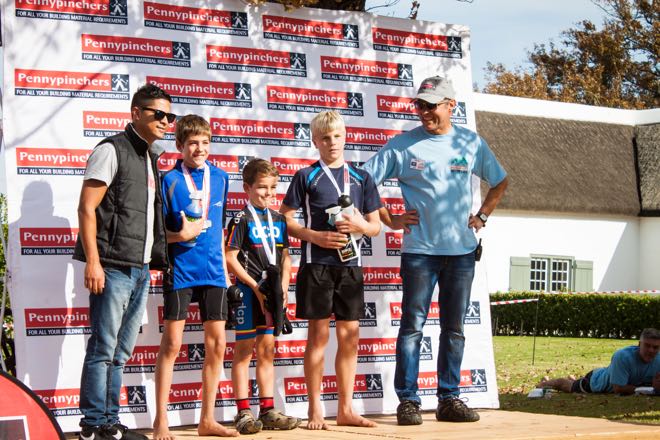 Prizes for kids small to large presented by organizer Petie Viljoen from Helderberg Cycles (R) and Wade Faure, Brand Manager at Pennypinchers, the title sponsor.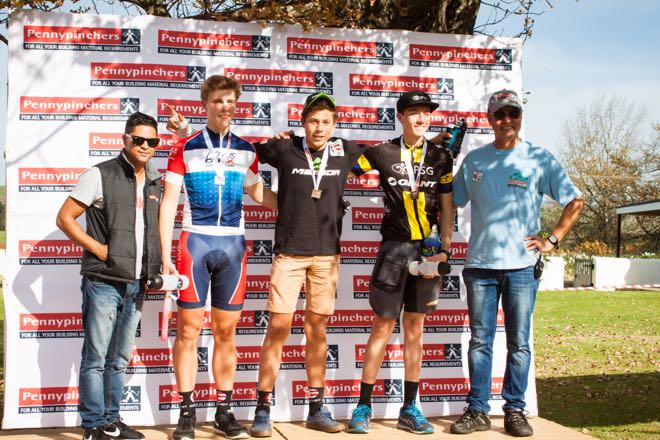 Triathlon all rounder Rossouw Becker won the older boys race.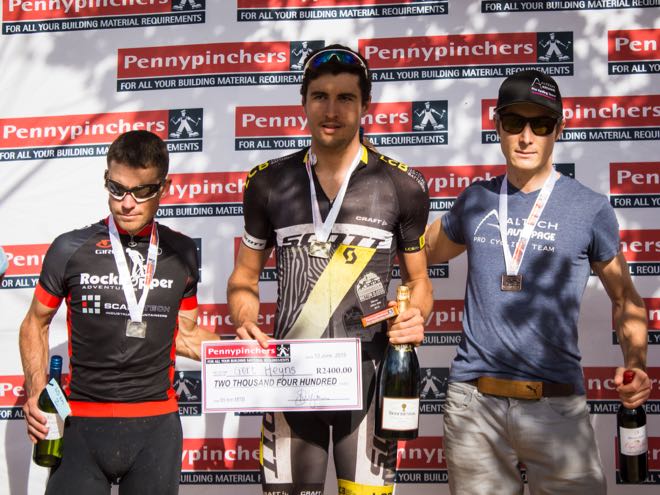 The big boys won real money and wine from Boschendal and Doolhof. (2nd Darren Lill, 1st Gert Heyns, 3rd Chris Wolhuter)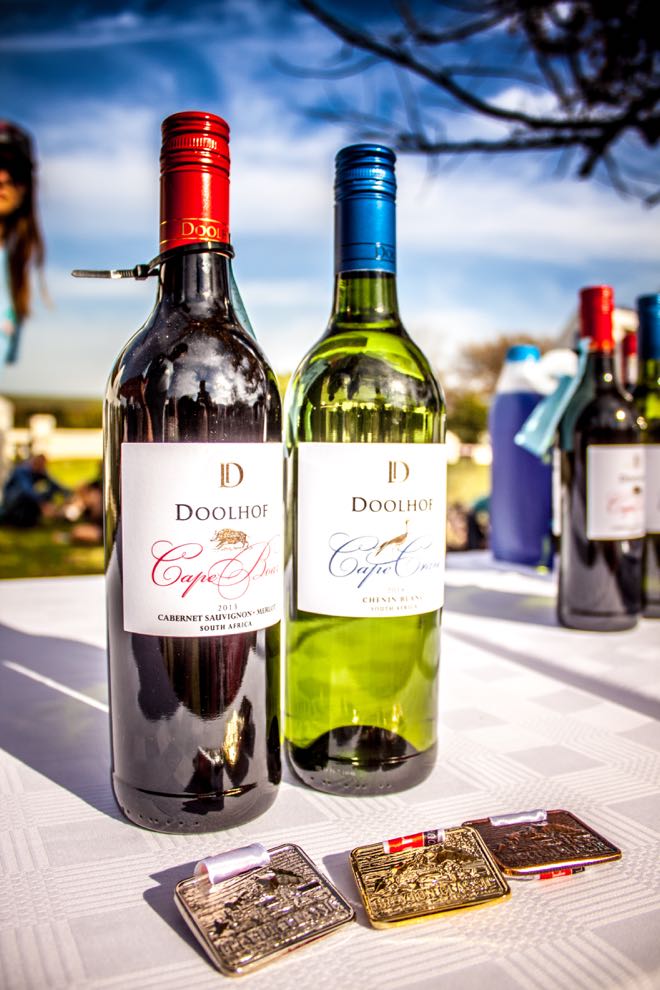 Doolhof wines contributed liberally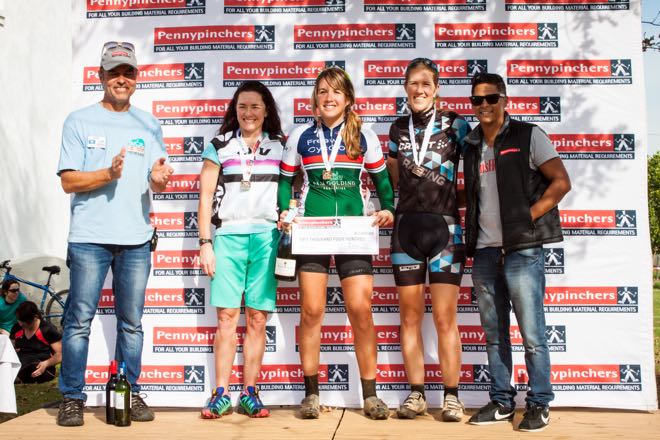 Star studded ladies podium with 2nd Michelle Lombardi, 1st Candice Neethling and 3rd Diane Carolin.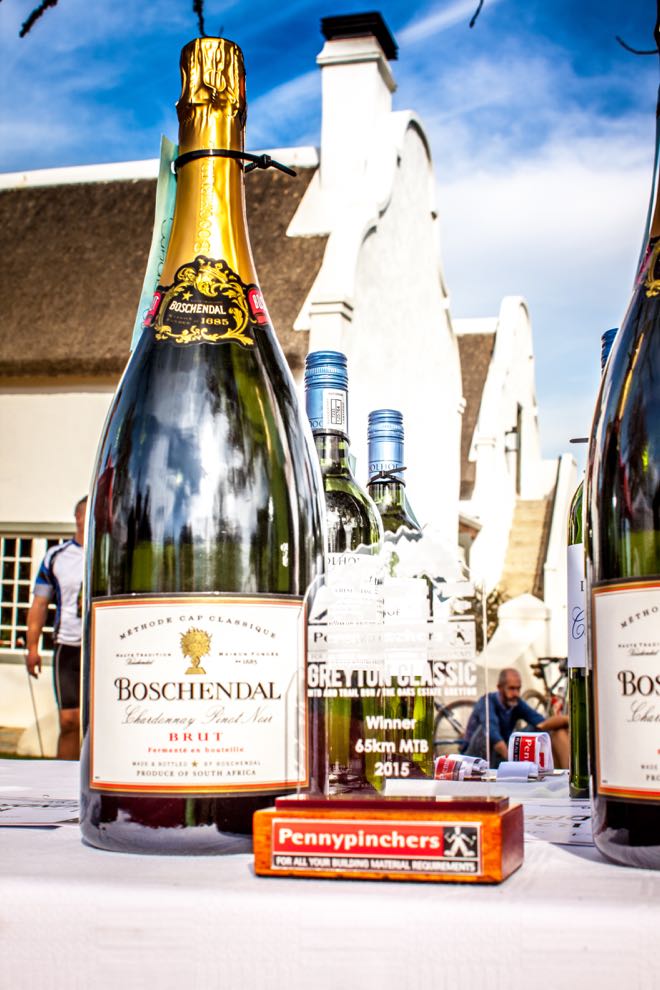 Prizes worth "jaaging" for!
Stay tuned for the TV broadcast of the event on SuperSport.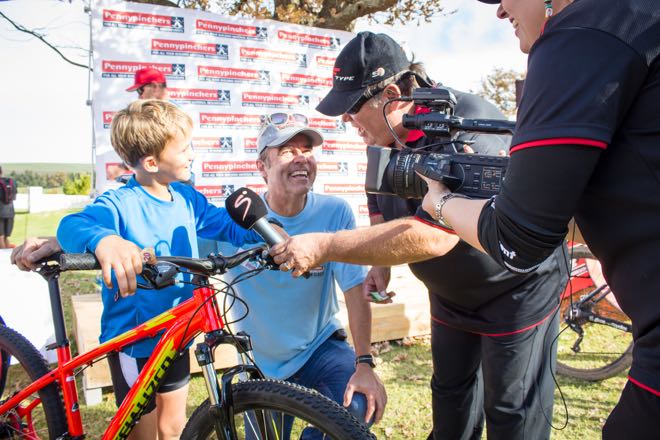 Local lad Phillip Viljoen won the big lucky draw on his birthday! A Brand new Specialized bike from Helderberg Cycle World, which, after looking at the colours, he said  "I can ride it in the dark"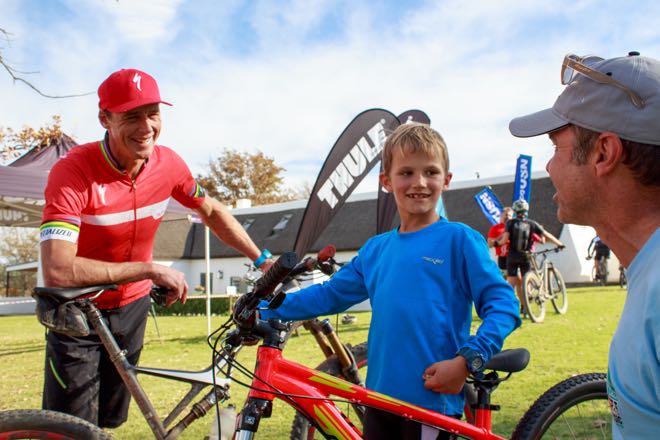 Caveman probably laughing at his own joke. Little Phillip, wisely, listening to Petie Viljoen's story instead.
The trail runs were epic. I'm told. Recovering from a calf injury, I hobbled 7 of the 10km of the "short, easy" route, while the hardcore lot charged the tough 21km: Here Teresa Fourie is hooking it to win the ladies' division: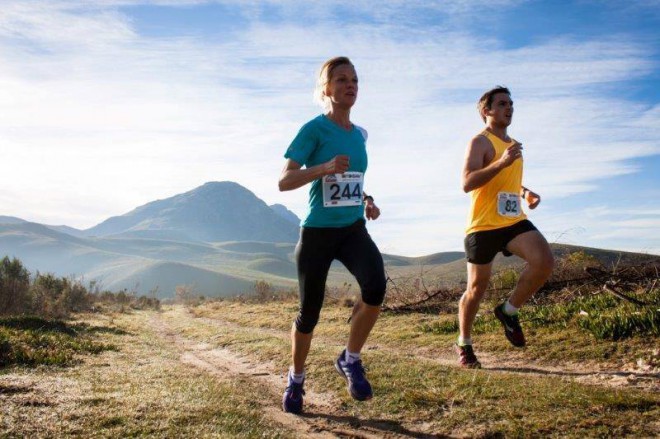 On the 3rd morning of the festivities we took a gentle group ride through the farms, where we stopped at farms and enjoyed steak off the braai, wine and other delicacies – including views like this: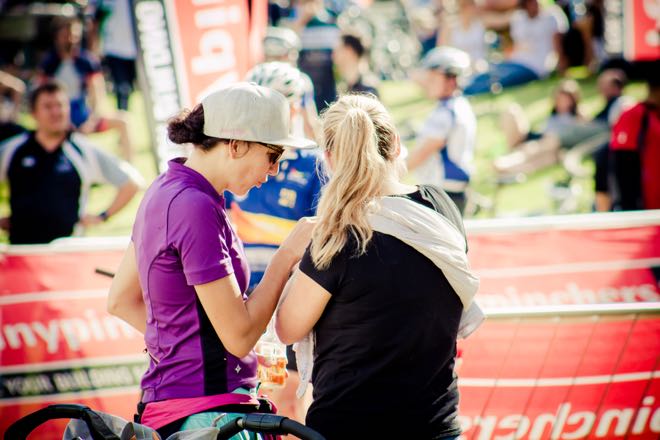 PrincessHotstuff and 3 week old Zena saying hi to friends.
During the weekend we stayed in an old farm house with a wood burning stove. Zena not only had her first "fire" experience – an important ritual in the Caveman clan,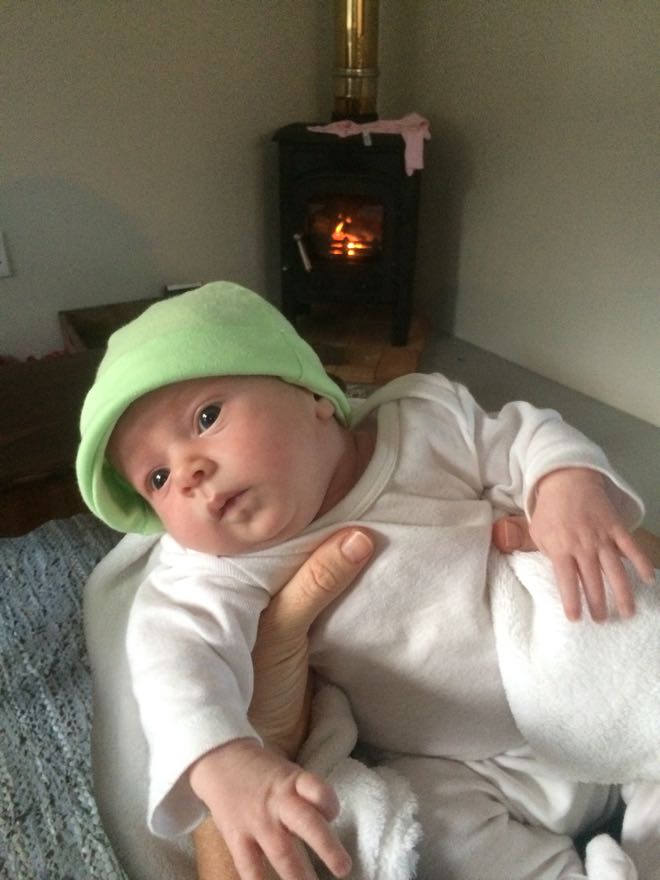 but she also smiled her first smile! Cavedad couldn't be more happy. She smiled at me, by the fire, and I got it on camera.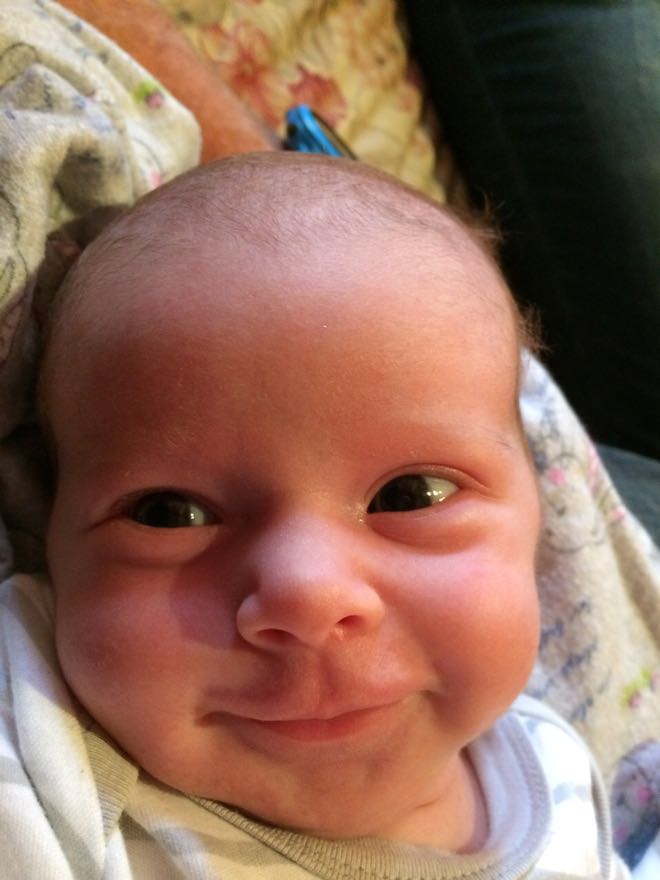 I can usually tell how good our "holiday" has been by the speed I drive home at. I think we did 90km/h on the N2. (most people try to go as fast as their vehicles would go) If it wasn't for the excitement of watching Aaron Gwin winning a World Cup Down Hill with no chain right before leaving, I would have driven 80km/h.
Thanks for the good times to the organizers at Freebody Sports, (headed by Petie from Helderberg Cycle World) one can easily see your glowing passion for sport, family, friends, the local businesses and the environment We made new friends and saw old friends and really enjoyed the long weekend. See you next year.
Caveman