#ThrowbackThursday Conrad Stoltz 1998 ITU All African Triathlon Champion Swakopmund Namibia
Created on 29 January 2015
Last Updated on 19 February 2015
0 Comments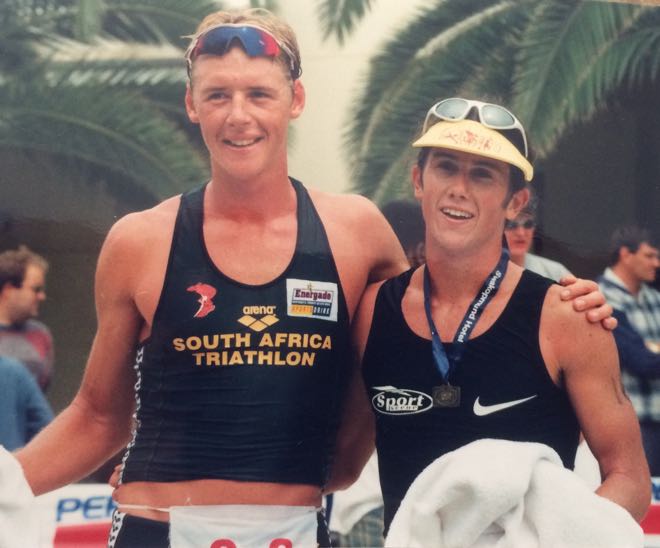 Conrad Stoltz  & Lieuwe Boonstra 1st & 2nd at 1998 ITU All Africa Triathlon Championships Swakopmund Namibia
Back when we were chasing ITU points to qualify for the 2000 Sydney Olympics, Speedos were the rage, we sewed and ironed our sponsors logos on, and Lieuwe had the most admirable horse-like pony tail in the biz. (this photo does not do it justice)
Lieuwe and I were a formidable team: Both 2nd pack swimmers but really strong cyclists, we'd get together on the bike, ride up to the lead pack- usually lead by David Hyam, Glen Gore and sometimes Tim Don. Once in the pack, I'd sit in and send Lieuwe up the road. If they chase and catch Lieuwe, I'd attack, and Lieuwe would bridge over to me later, or we'd repeat till we got away. But usually they would let Lieuwe go and watch me – the stirrer and stronger sprinter… I'd wait till Lieuwe had about a 30″ gap then attack and ride up to him, where we would start a furious through and off. This would be the crucial time to get clear of the chasers without bringing any unwanted fleet footed runners with. (Eksteen, Don, Gore et al.)
At this particular race
there was a lead car with a race clock on the roof- so we took 30″ turns pulling- it worked perfectly.
In a "normal" (Global) ITU race, Lieuwe was a faster runner than me, so obviously I wouldn't want to run head to head with him. Towards the end of our Team Time Trial, I'd keep an eye on him- looking for signs of weakness. Depending on how big a lead we had on the runners, and how tired Lieuwe looked, I'd attack him with about 5 – 10km to go and TT home, trying to build a comfortable gap on him before the run. I felt really bad attacking Lieuwe, almost wanting to apologize, but someone had to win, and I'd rather it be me…
Usually a 45″ gap was fine. Because by the time we started running – everyone's legs would be totally smashed and that was my specialty- strength, not so much speed.  (If the chase pack played games and didnt chase- then they'd be a time zone behind and fresh legs wouldn't help)
At this race in particular I had my best ITU run ever – 31.30 for the 10k. Not gonna happen again.
Swakopmund is a very interesting race venue. Icy water with sea bamboo and some waves. Most of the streets in town are sand roads packed down with salt to make it almost has hard as tar. Once out of town we'd ride next to the Skeleton coast with the ocean and its foggy air on the one side meeting the Namib desert with some of the worlds biggest sand dunes on the other side. (Did some fun quad biking on the dunes afterwards- one of the athletes rode over their own leg?! Kim Carter?)
Lieuwe and I did this move at just about every SA and All African Champs for many years. We didnt even discuss it before the event anymore- on the start line it  would just the a nod: "The Usual." Sometimes a 3rd strong rider would get in on the action-  David Hyam and Kent Horner, then we would really make time and we'd be guaranteed podium spots.  Fun memories- mostly at Club Mykonos.
1998 ITU All Africa Champs Swakopmund results: