Created on 24 May 2010
Last Updated on 24 May 2010
0 Comments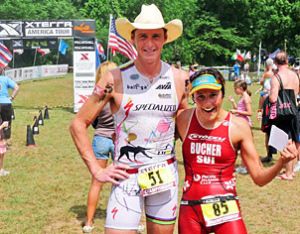 Picture and story borrowed from www.slowtwitch.com
Conrad Stoltz won his second straight XTERRA 2010 USA Championship race and Renate Bucher her second ever with definitive victories at the XTERRA South Central Championship at Waco, Texas today.
Stoltz followed his XTERRA West Championship win at Lake Las Vegas last month with a 2:02:21 finish for the 1.5 k swim, 24k mountain bike and 10k trail run for a 3:05 margin of victory over runner-up Josiah Middaugh of Vail, Colorado. Stoltz seems to be getting better as the season goes on, since his margin of victory over Middaugh last month was just 39 seconds.
"Actually Josiah by rights should have won that race in Lake Las Vegas," said Stoltz. ""But he had a flat and lost two minutes. Today, I was feeling much better and I loved this course. It has 300 turns and twists and a ton of sharp uphills and it suits my power."
Bucher avenged a 6th place finish at Lake Las Vegas for a 2:17:59 finish that gave her a 2:15 margin of victory over Shonny Vanlandingham. Bucher's win was her second XTERRA USA Championship win to go with her 21 XTERRA International career victories.
"I love this course," said Bucher, a 32-uear-old resident of Lucerne, Switzerland. Bucher emerged from the swim 5 minutes down to top rival Melanie McQuaid but ahead of Vanlandingham. "It goes through a forest and has a lot of turns and short sharp uphills and I passed Melanie with a kilometer to go on the bike loop."
XTERRA South Central Championship
Waco, Texas
May 23, 2010
S 1.5k / MTB 24k/ TR 10k
Results
Pro men
1. Conrad Stoltz (RSA) 2:02:21 — $1,800
2. Josiah Middaugh (Vail CO) 2:05:26 — $1,250
3. Nico Lebrun (FRA) 2:06:30 — $800
4. Craig Evans (Hendersonville TN) 2:08:09 — $500
5. Ryan DeCook (Rochester MI) 2:11:02 — $400
6. Cody Waite (Lakewood CO) 2:13:38 — $300
7. Branden Rakita (Lakewood CO) 2:15:31 — $200
7. Will Kelsay (Boulder CO) 2:16:11
8. Trevor Glavin (San Diego CA) 2:19:27
9. Scott Gall (Cedar Falls IA) 2:19:40
Pro Women
1. Renate Bucher (SUI) 2:17:59 — $1,800
2. Shonny Vanlandingham (Durango CO) 2:20:14 – $1,250
3. Melanie McQuaid (CAN) 2:23:48 — $800
4. Emma Garrard (Truckee CA) 2:27:46 — $500
5. Christine Jeffrey (CAN) 2:28:03 — $400
6. Shae Rainer (Austin TX) 2:28:12 — $300
7. Christie Sym (AUS) 2:34:04 — $200
8. Tracy Thelen (Colorado Springs CO) 2:34:04