"Are you CaveMAN or CaveMOUSE?" Jeep Warrior Race#7
Created on 21 October 2015
Last Updated on 21 October 2015
11 Comments

My stomach turned as we arrived at the venue and saw the huge structures built for #Warrior7 at Meerendal.
PrincessHotstuff piped up: "Today we're going to see if you're CaveMAN or CaveMOUSE…"*    
*Derived from an Afrikaans saying "Is jy man of is jy muis?" – which translates to "Are you a man or are you a mouse?"
I entered the Black Ops Elite division, the hardest thing they have: 15km of running with 30 obstacles.
The total extent of my prep for this race was watching 1 Warrior Race on YouTube. I immediately realized I'm way out of my depth, and took the approach of "participating for "fun"".
I spent my life trying to be as light and trim as possible, so initially, it was nice to see that for once in my life, I'm one of the smaller guys on the start line…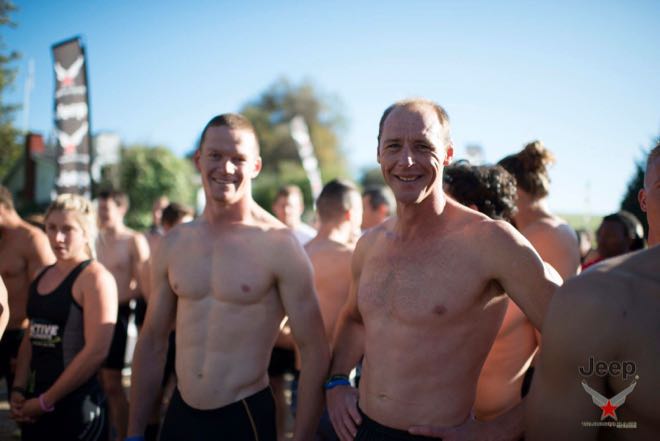 #BEAST & #Caveman. At the start with Thomas van Tonder – who finished 2nd.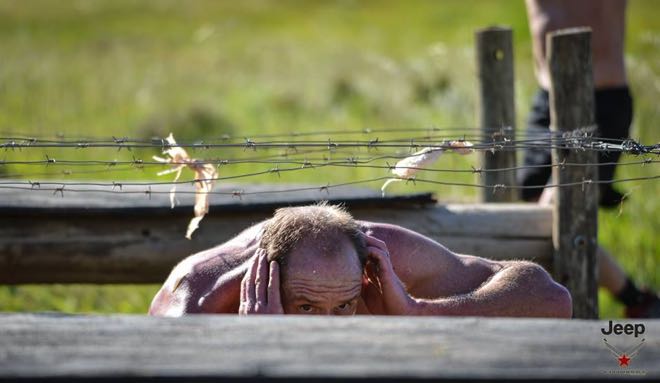 It started out with a fair bit of running and obstacles ranging from "fun" to "challenging." I didnt bother warming up, but after a while I found myself in 5th position and thought, "man, imagine what I could do if I tried…"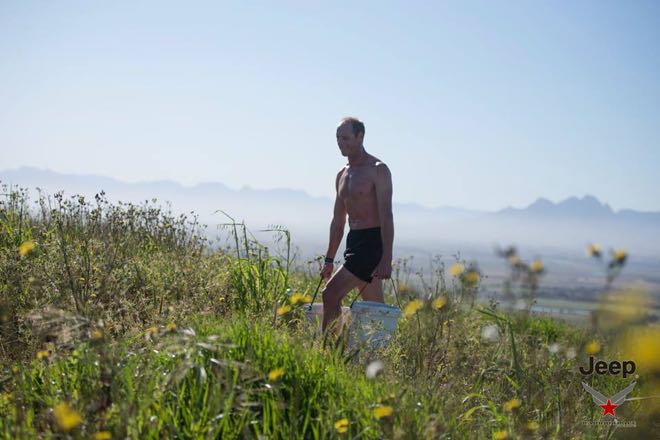 I especially excelled at the obstacles which resembled farming or building your own swimming pool…
That's 2 x 25kg buckets of sand.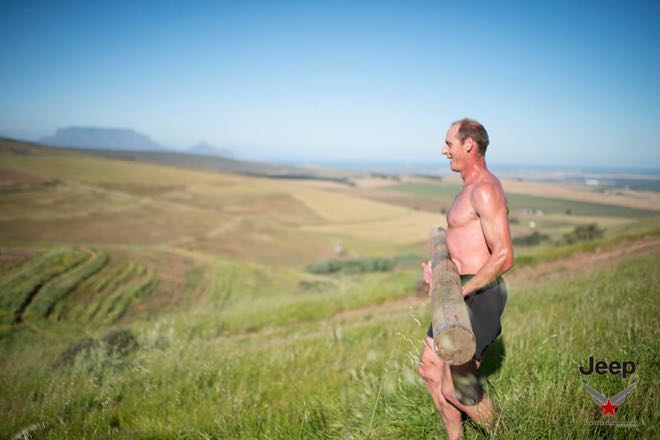 Stunning scenery & spring time colours – Table Mountain in the background.
It was all fun and games till we had most of the running done. Then we hit this one seemingly easy obstacle (too embarrassed to say which one) which totally exposed my absence of upper body strength and/or proper technique. I went from 5th to probably 20th and totally broke myself trying to clear it.
Right there, I shamefully embarrassed Cavemen around the world. Fellers, I apologize!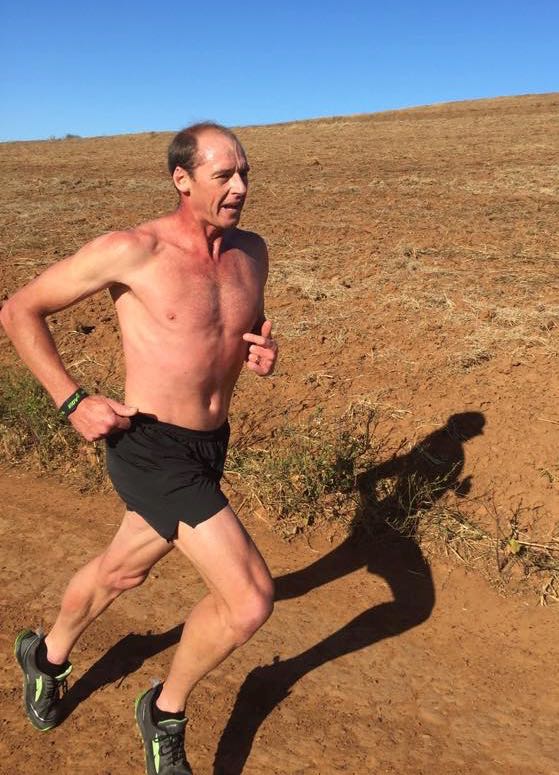 Some more light running and a few obstacles…
For shoe choice: the light weight Altra Superiour 2.0 with aggressive sole was perfect.
No shirt, hat, glasses or Suunto – its going to get wet and muddy – I was told.
Then we hit the Mud Monster…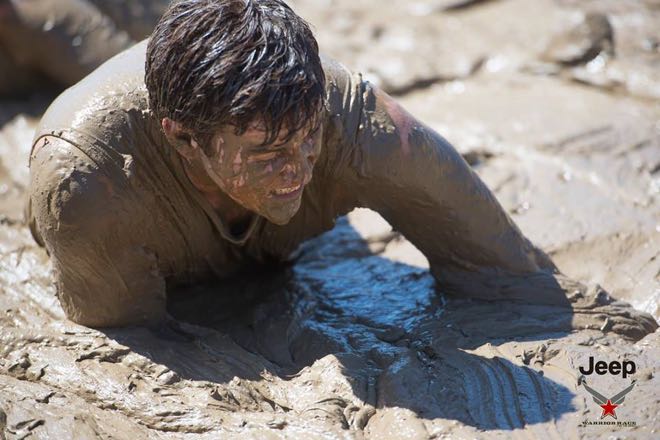 Which in terms of cardio, was the toughest thing I did all day. I had to lay down to catch my breath 3 times! This is also where the leading lady caught me the 1st time. Also lost time looking for my shoe, trying to walk, and looking at the others, trying to figure out what I was doing wrong. How could going through mud be so hard?!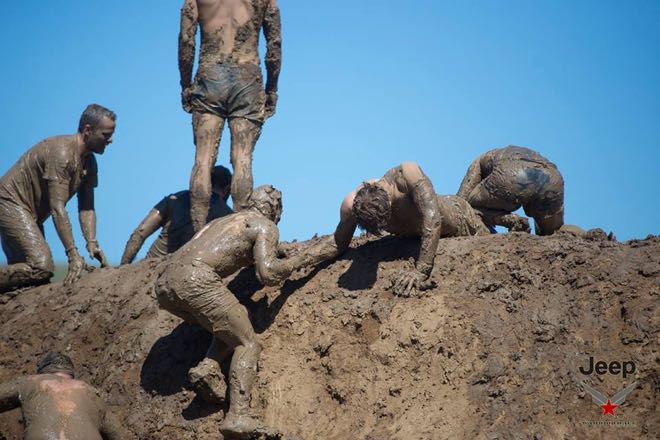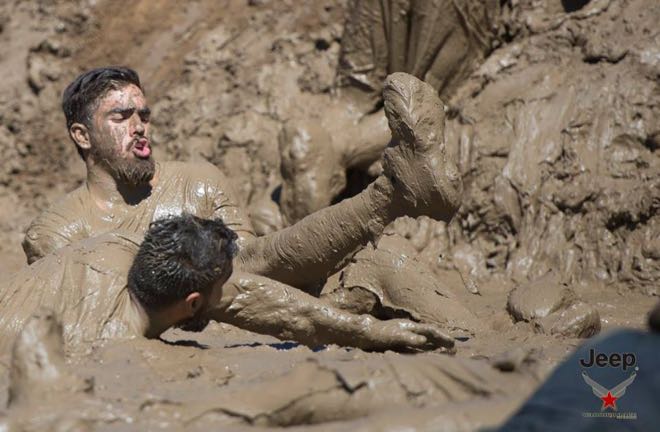 At this stage, it doesnt matter what tread pattern your shoes have- traction is zero!
And no, swimming doesnt work- I tried.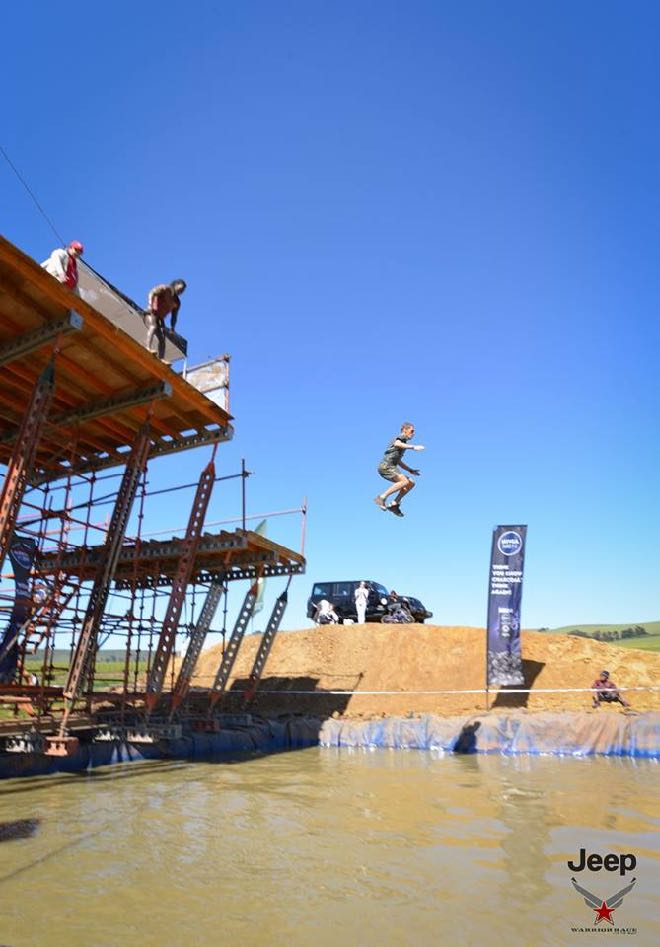 Once the Mud Monster spat you out, you could start the rinse cycle – a number of water obstacles of which the 7m (23ft) jump was my favourite.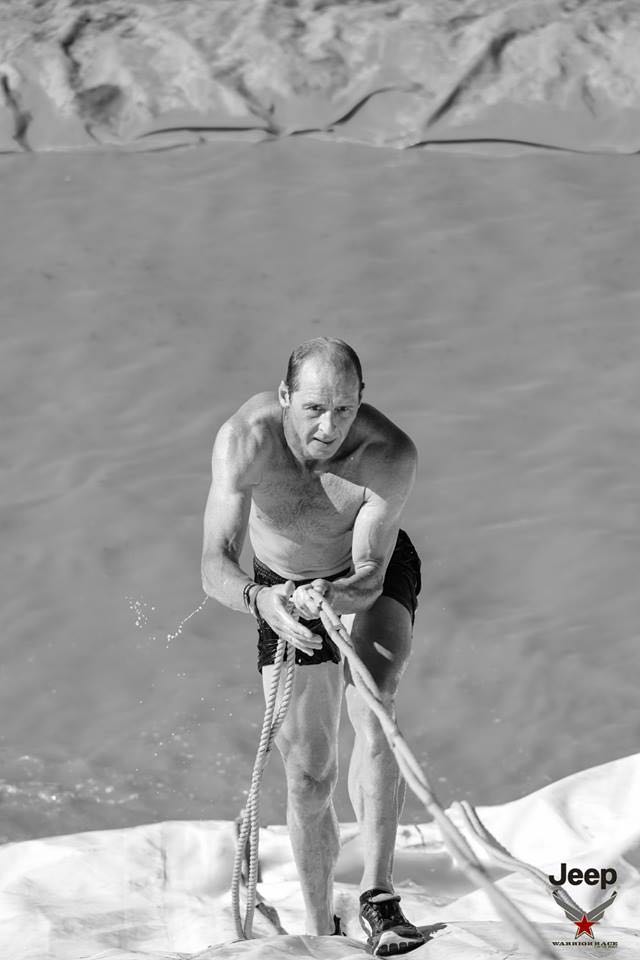 Going through the final rinse.
Then the part where the men were separated from the mice.
By this time I was solidly 2nd in the ladies race.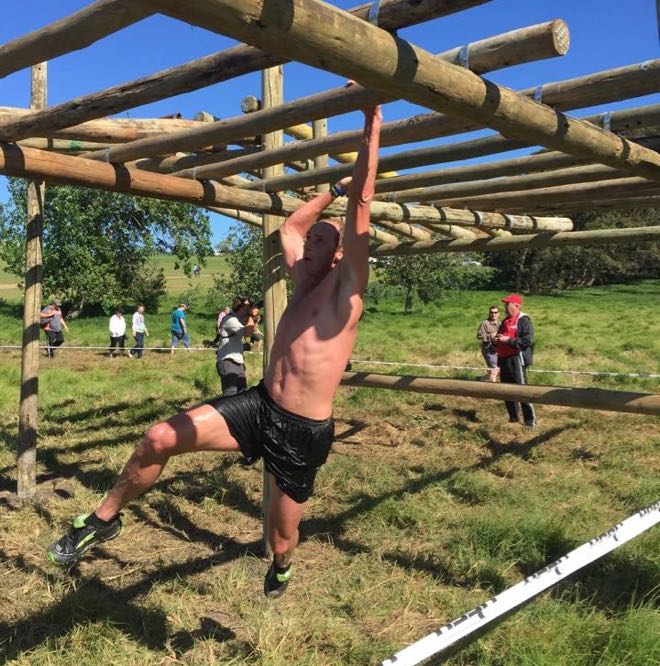 Surprised myself by breezing through this one. Have only seen it done on TV.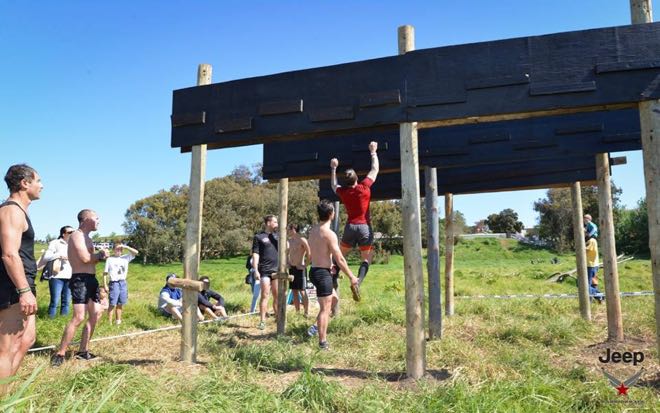 But then we hit the 2nd last obstacle. I forget the name, but you may as well call it the "Runner Killer" Or "Caveman Exterminator". Us little guys left the big guys in the dust on the run – huffing and puffing on the super hilly course. But this obstacle ate us alive. Pure grip and arm strength.
Speed, cunning and technique did not work- I tried them all.
This thing you actually have to train for. The only overhead strength training I've ever done was changing a light bulb. (also painted a few ceilings)
But if you cant complete the obstacle, you surrender your black wrist band, do a lot of burpees and carry on.
After many tries, each one more sorry than the other, I handed over my wrist band and just stood there watching the real men swing by.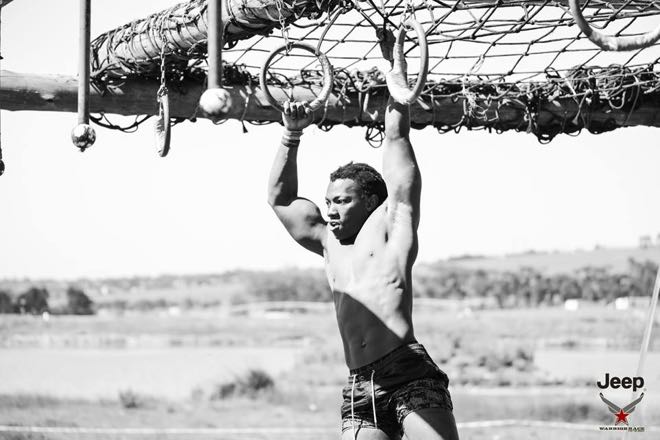 The last obstacle was the aptly named Eliminator. My arms and hands were so broken I didnt even try. It started with an impossible rope section and then got even crazier -long and tough in front of the crowd-  finishing with the bell ring.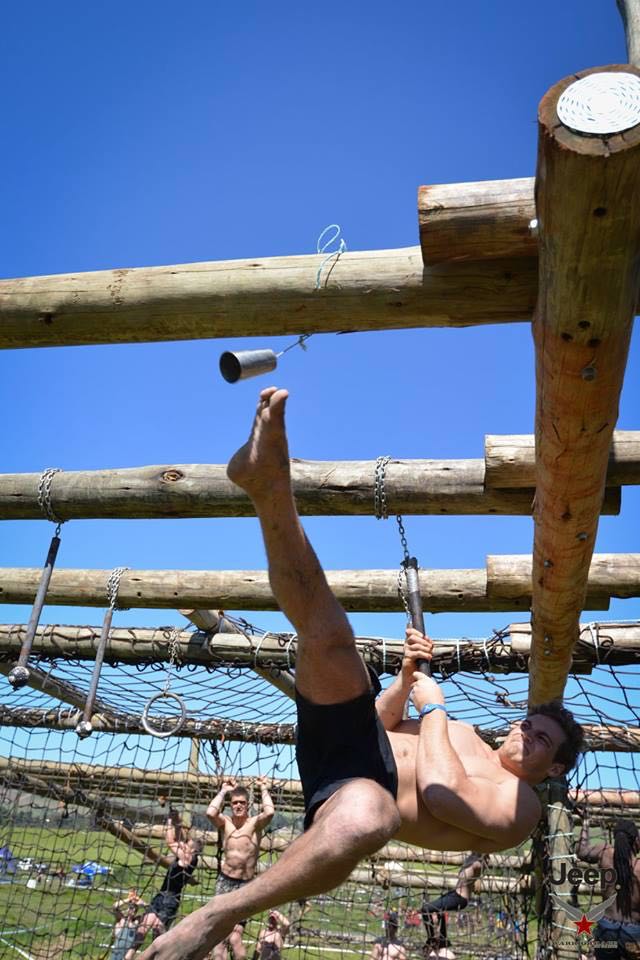 This is where you need more monkey and less knuckle dragger…
Well done fellas. And ladies. Inspirational stuff.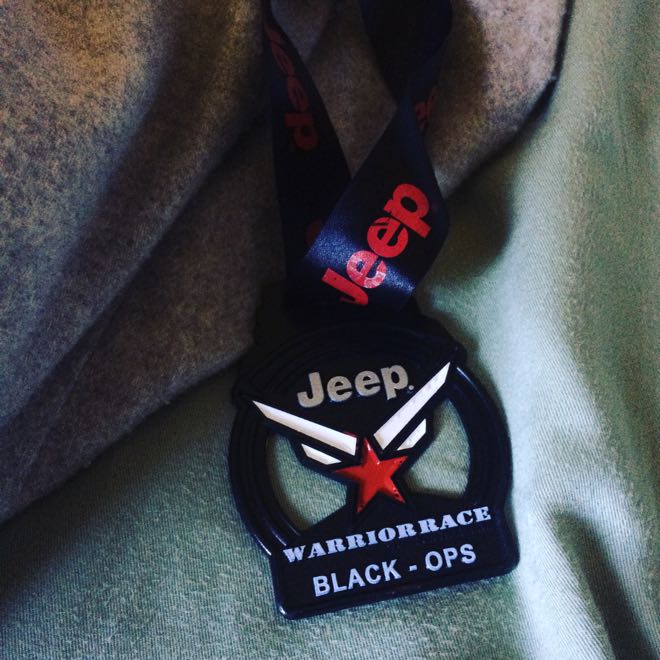 The next morning: "I think I can walk, but I cant get out of bed." Abs brokin. For almost a week, I had to roll over and fall out of bed in order to get up.
For the first time in a a couple of decades, a medal actually meant something for me*. But this medal is nothing without the Black Ops Elite dog tags- the mark of the official finisher.
*Lets call it a wake up call.
Recently learned some wisdom from 85 year old Ironman Lew Hollander on TRS Radio:
"What you do at 40, determines what you'll be able to do at 80 and beyond…"
Fellow Cavemen, I'm going to rectify this slight misstep, and work on becoming a more rounded homo-sapiens. Every Caveman should at least be able to get his Black Ops Elite dog tags… I'm sure it will make me a better triathlete too.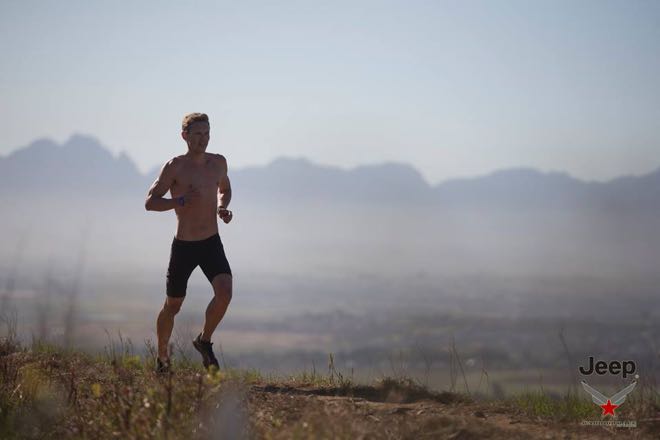 After all, the race was won by the smallest guy in the field – Claude Eksteen, a guy I competed against for a spot in the South African  Athens Olympic Triathlon team…