Bike porn from Interbike 2007
Created on 27 September 2008
Last Updated on 27 September 2008
5 Comments
The Avia bike drew a lot of attention and explained bike show goers why there's running shoes at their "bike show". Triathletes!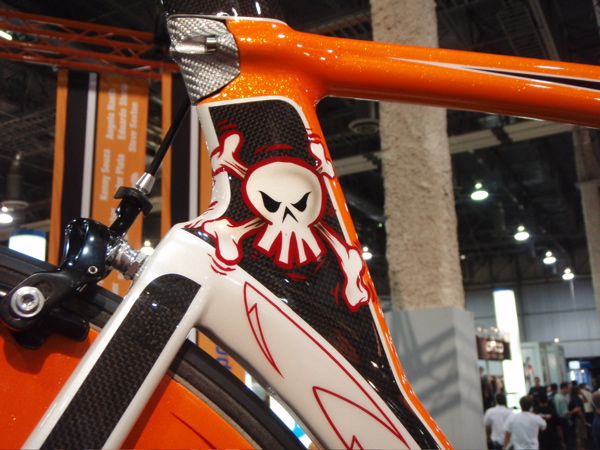 Troy Lee Design custom painted Ed's Pinarello. Wow. The skull and crossbones has become Avia's icon. Any guesses where the inspiration came from? See answer at bottom of blog.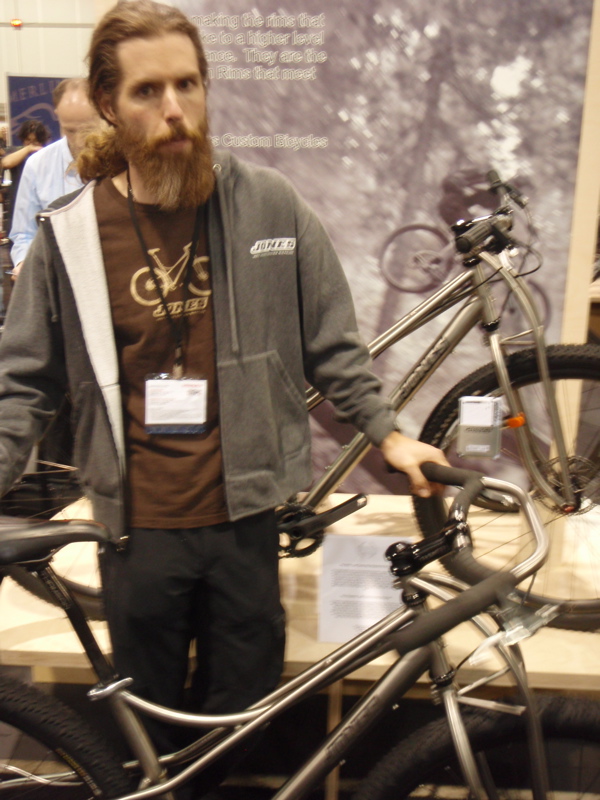 Jeff Jones hand crafts these clever Ti bikes. His Ti rigid frames has "built in" suspension- the picture in the background is Jeff jumping BC stuff on his rigid bike.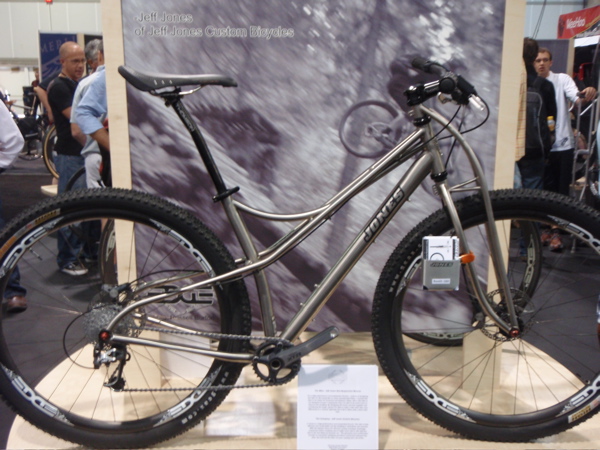 Sweet Edge 29er hoops…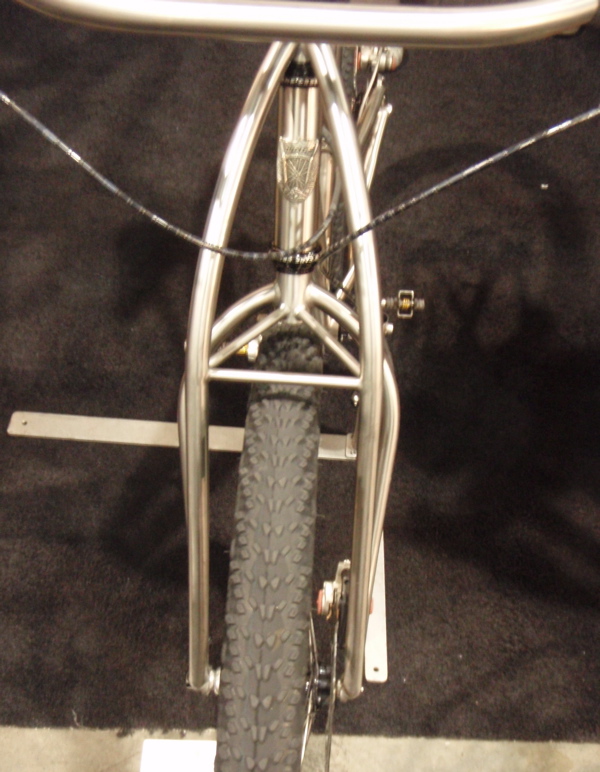 Jones' "rigid suspension" fork.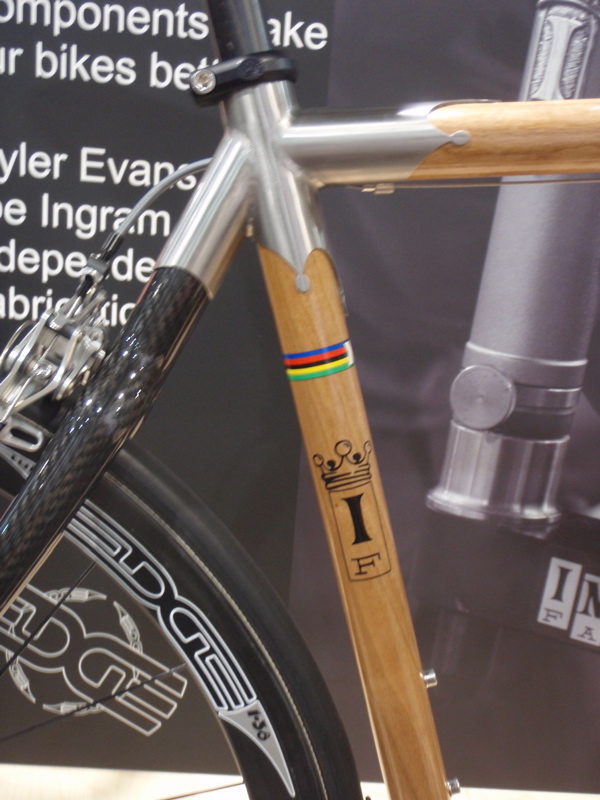 Independent hand crafted bike with Carbon, Ti and wooden* tubes. Edge Composites used carbon tubes and covered it with a thin layer of wood to make the "wood" tubes. So yes, the bike is light.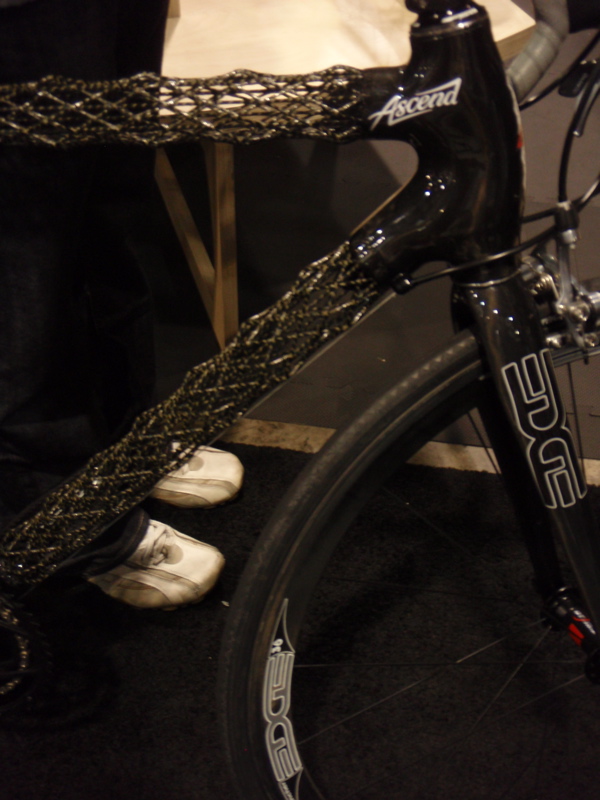 The Ascend bike is hand woven kevlar. Edge Composites supplied the carbon for the lugs and paired the Edge fork and Edge I 38 Wheels. As you may notice, Jason from Edge Composites has a passion for hand crafted bikes. He supplies carbon tubes for many famous builders/artisans and you'll also see all carbon Edge wheels, forks and handlebars on bikes.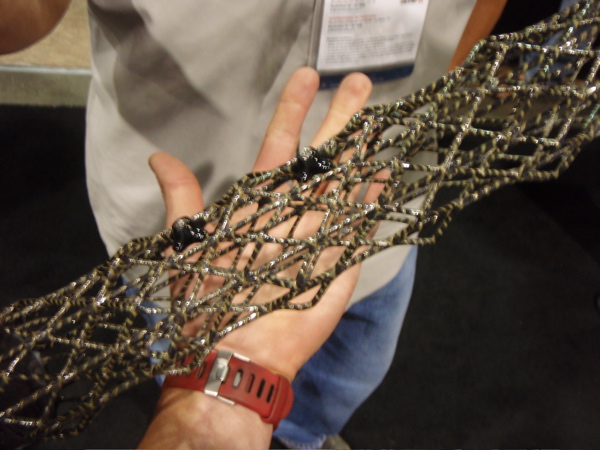 Yes, it really is only woven kevlar.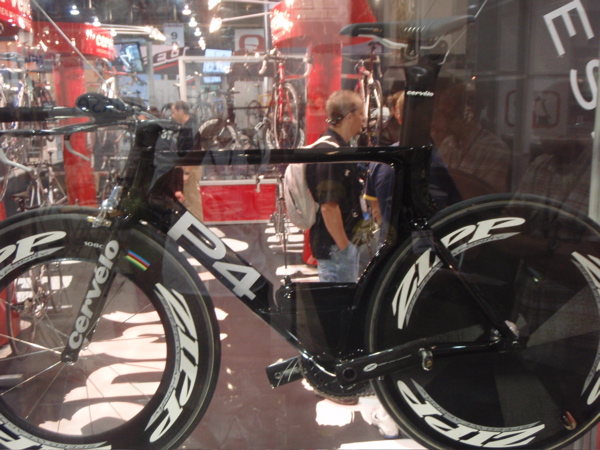 Cervelo P4. Locked up in a glass box. Clever water bottle placement. But I'm sure its going to cost a bazillion dollars…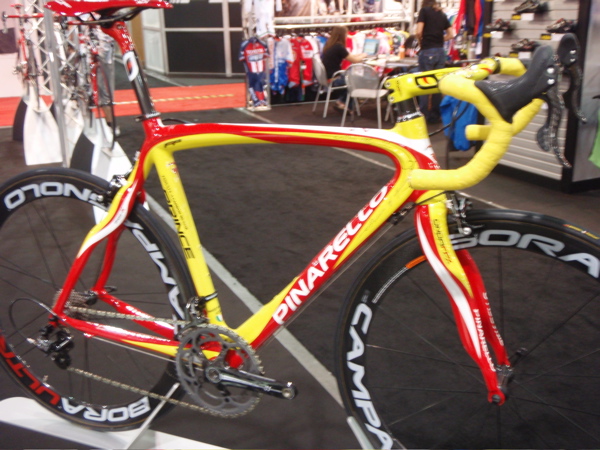 Pinarello Prince. Painted Euro style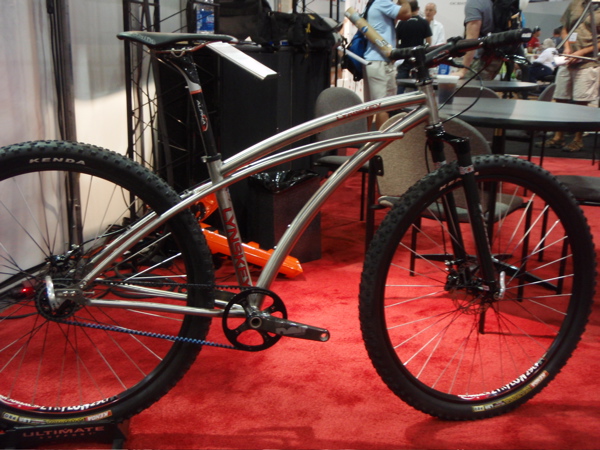 Belt drive trains were popular. And so were beautiful lines. And 29ers…
SRAM HammerSchmidt. These cranks/chain rings were probably the coolest thing I saw at the show. A small single chainring on the cranks and then 2 internal gears which instantly engage when the lever is pushed. You dont even need to pedal to shift. Its super robust, it obviously eliminates a dérailleur and chain rings in the front and it has great ground clearance. But its still a bit heavy for cross country racing- but it surely is a bit step forward in revolutionizing the pesky drive train.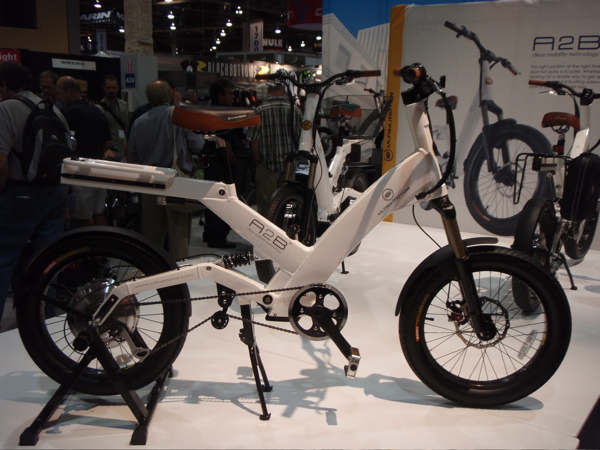 A2B. Pedal a bit- ride a lot. This bike, like me, has a 500Watt electric motor. The battery charges as you pedal or freewheel downhill. Its dual suspension and it has a throttle. AND I saw some guys jump it at the Dirt Demo…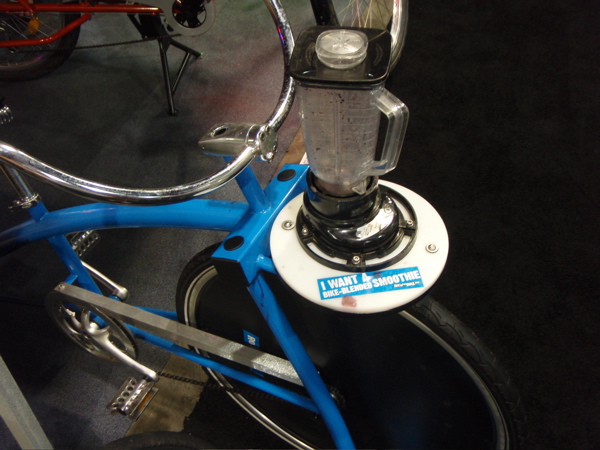 "I want a bike blended smoothie" the sticker says. This "bike" hitches onto the back of another bike and get towed around. I bet the "Burners" (from Burning Man) would love this thing which obviously has a more fun application as a Margarita blender.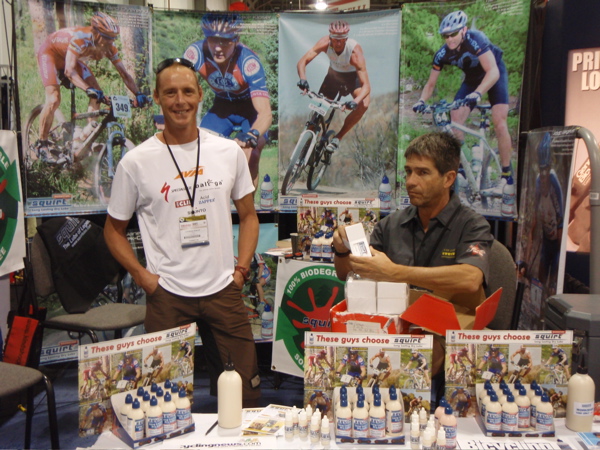 Squirt lube stand! Where the fast, old, clever guys hang out. Posters in back: Ned Overend, Mike Kloser, Moi, Travis Brown. Dewet Marais is also old and clever (sometimes fast) but he is the brains and the work behind Squirt. Always great to be able to speak Afrikaans with Dewet in random places like Las Vegas or wherever we meet to promote the best chain lube known to man.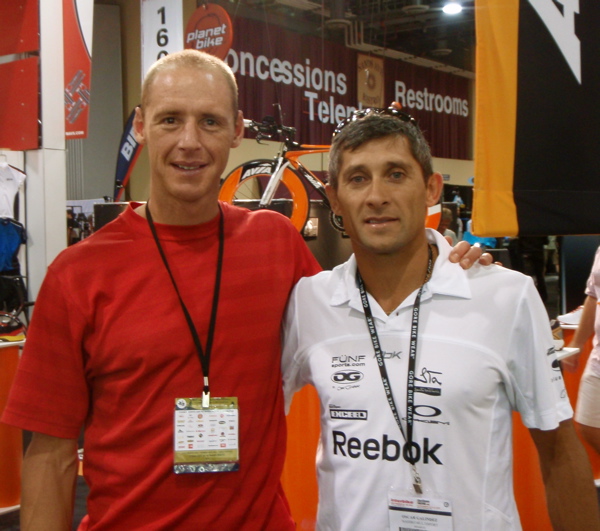 Oscar Galindez – triathlon legend from Argentina. We have been racing together for decades now – my most amazing Oscar memory was in Sydney Olympics when the two of us rode up from 4th group, through all the packs to the lead pack in memorable fashion.
* Avia Skull and crossbones: Kenny Souza, The King Of Duathlon from the late 80s and early 90s (when I was a complete tri/du GEEK) had a scull and crossbones tattoo on his arm that said "Victory or Death." Ike, the product manager from Avia, used Kenny's tattoo as inspiration for the Avia icon.