XTERRA Waco, Texas and how "the Caveman" became "the Cowboy"- for a day
Created on 27 May 2010
Last Updated on 27 May 2010
3 Comments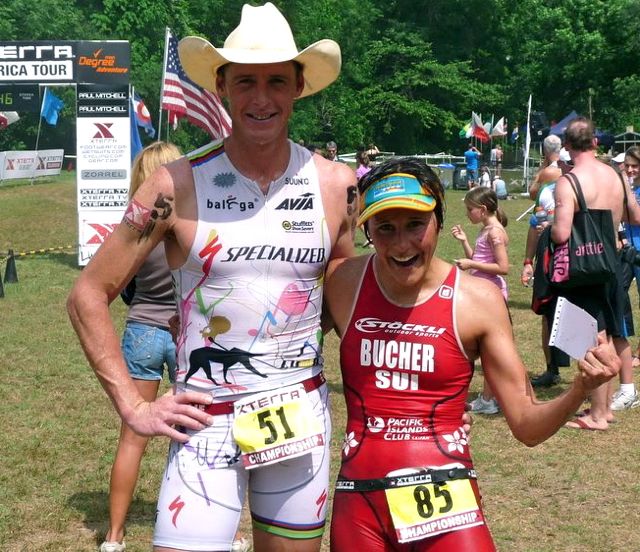 Caveboy. (or Cowman- Cowboy Caveman?) Renata Bucher's 1st big win in the US Xterra Series
Due to excellent journalism by Trey Garman, I borrowed part of my race report from www.xterraplanet.com
[Conrad Stoltz, 36, from Stellenbosch, South Africa and Renata Bucher, 32, from Lucerne, Switzerland captured the inaugural XTERRA South Central Championship pro titles on a hot and humid day deep in the heart of Texas at Cameron Park in Waco this afternoon.
Nobody on the XTERRA Planet knows how to "Cowboy Up" like Stoltz, and he proved it by crushing the twisty-turny-tree-lined bike course, and walking tall across the finish line with a cowboy hat on in 2:02:21, more than three-minutes ahead of runner-up Josiah Middaugh from Vail, Colorado.
"I had fresh legs today and was just killing it on the bike.  I love this course, and when I came off the bike and someone said I had a four-minute lead I thought to myself maybe we should move the XTERRA World Championship to Waco," laughed Stoltz to an appreciative local crowd at the finish line.  He posted a 1:05:26 split on the 15-mile bike course, nearly two minutes quicker than Middaugh.
The race started with Christine "Big Fish" Jeffrey leading all racers (men and women) out of the 1.5-kilometer warm water swim in the Brazos River, followed by Branden Rakita, Craig Evans, then Stoltz.
It wasn't long, however, until Stoltz jumped into the lead on the bike, and then started building on it. Middaugh and Nico Lebrun, who finished the swim two minutes behind Stoltz, caught Rakita at about the halfway point but didn't get Evans in their sights until the bike-to-run transition.
"Nico and I stayed together on the bike and I thought we were doing well and making time but Conrad was actually putting time on us," said Middaugh, the proud father of a 10-day old daughter that he and his wife Ingrid named Larsen (they also have two boys).
When asked how far he was behind Stoltz heading out onto the run, Middaugh replied, "I don't know, half a day?  Seriously though, someone said it was four minutes, just ridiculous.  I guess if he would've stopped and had some barbeque maybe I'd have had a chance."
Lebrun and Middaugh (pictured) played cat-and-mouse on the run for a bit, before Middaugh (who had the fastest run split for the second straight race) started working the climbs harder.
"Josiah was just too fast for me, he was really strong," said Lebrun.  "I sat on his legs during the swim, rode behind him most of the bike, and then he dropped me on the run.  He's really strong, but in this kind of race nobody can beat Conrad.  He's on another planet on this kind of bike course."
Stoltz said that a lot of the credit goes to the locals, whose homestay put him up in an airstream "like a rockstar" while Ian Moore of Bicycles Outback in Waco fine tuned his ride on Saturday night before the race.  "Ian has worked with some of the best riders and innovative equipment mountain biking has ever seen and I think he's probably just one of a handful of guys in the world that could've dialed in my bike like he did."
Evans held on for fourth-place (in nothing but a Speedo!), his best result since finishing 3rd in Alabama two years ago, and the young-gun Ryan DeCook made the podium in the fifth spot for the first time in his career.]
TOP PRO MEN
Pl

Name

Age

Hometown

Time

Pts

Purse

1

Conrad Stoltz

36

Stellenbosch, South Africa

2:02:21

100

$1,800

2

Josiah Middaugh

31

Vail, Colorado

2:05:26

90

$1,250

3

Nicolas Lebrun

36

Digne, France

2:06:30

82

$800

4

Craig Evans

32

Hendersonville, Tennessee

2:08:09

75

$500

5

Ryan DeCook

29

Rochester, Michigan

2:11:02

69

$400

6

Cody Waite

31

Lakewood, Colorado

2:13:38

63

$300

7

Branden Rakita

29

Manitou Springs, Colorado

2:15:31

58

$200

8

Will Kelsay

28

Boulder, Colorado

2:16:11

53

9

Trevor Glavin

30

San Diego, California

2:19:27

49

10

Scott Gall

35

Cedar Falls, Iowa

2:19:40

45



I was pleasantly surprised at the tightly knit sporting community in Waco. The week completely changed my preconceived ideas of Waco and Texas. The locals, and particular Ian Moore from Bicycles Outback went through a lot of effort to set up a great course, offered technical assistance and made XTERRA and the athletes feel welcome.
Home stays form an integral part of Pro (ie low budget) endurance sports. They are usually great fun, but I have to admit, this time, the warm fuzzyness blew the doors off the barn. Example: Manning an aid station, I bumped into Damian Gonzalez' home stay, and the lady was positively gushing: "Damian is AMAZING! He cooks for our family EVERY day! Breakfast, lunch and dinner. He even ran our errands at the grocery store. And the girls (about 7 and 9) just LOVE Damien. (then, behind her hand she whispers:) He even got them to eat things they'd NEVER eat- tomatoes, onions, garlic. We dont want him to go."
My home stay was stellar in its own way. From the Austin airport, I drove straight to the down town bike course in Cameron Park to pre ride before it got too dark. (it did, but I did anyway) Well, on the course I bumped into a guy on a single speed 29er, we said hi, he asked if I was Conrad, I said yes, he put out his hand saying, I'm Brandon and you're staying with me! Brandon owns the local outdoor adventure store, (The Bear Mountain) rides bikes, helped with the course and his wife Kristi finished 2nd in her age group at the XTERRA Trail run. Its really cool how sports brings together like minded people, no matter the country or culture. (Like South Africa, politics & rugby per the movie Invictus)
Brandon, Kristi and little Fisher. And Jake.
The Cowboy hat is Brandons'. Every Texan home seems to have a steel string guitar and a Stetson lying around…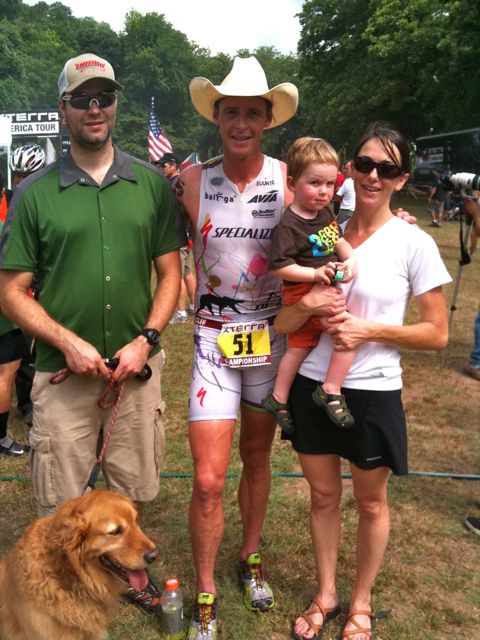 Rock star like accommodation: The Cavestream.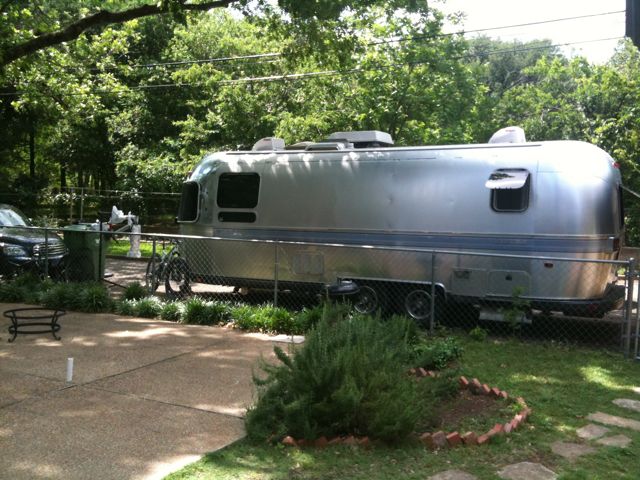 The somewhat radical bike course called for some interesting equipment changes, (More in the next blog) and I had to call in a few favours. Thanks to Garth and Matthew Cipes from Specialized.
What a good front door looks like…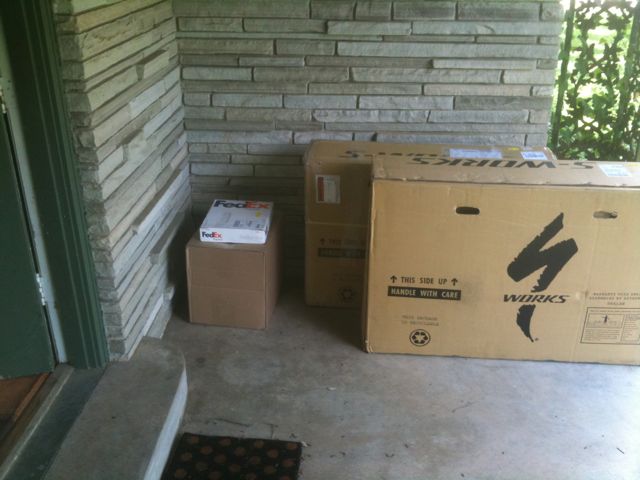 Some great cycling moments from the Bicycles Outback in Waco- where XTERRA locals, out of towners and out of countryers met for beer and home made salsa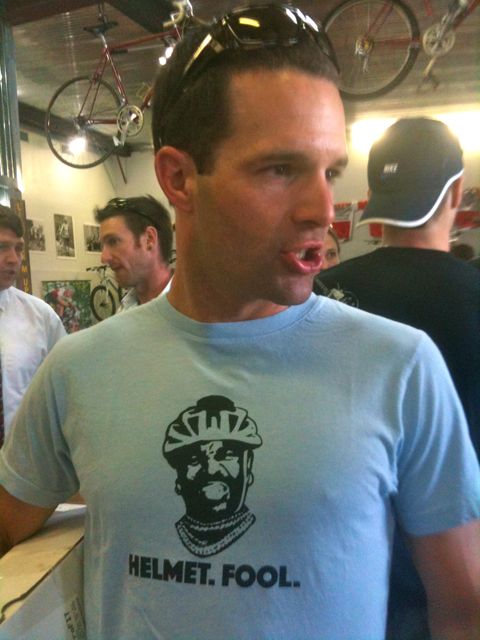 Pro, Cody Waite's catchy T-shirt. (You have to have been out of diapers in the 80s to get it) At school in Pretoria we used to call each other "Suigstokkie, Dwaas!"- A direct Afrikaans translation of "Sucker, Fool"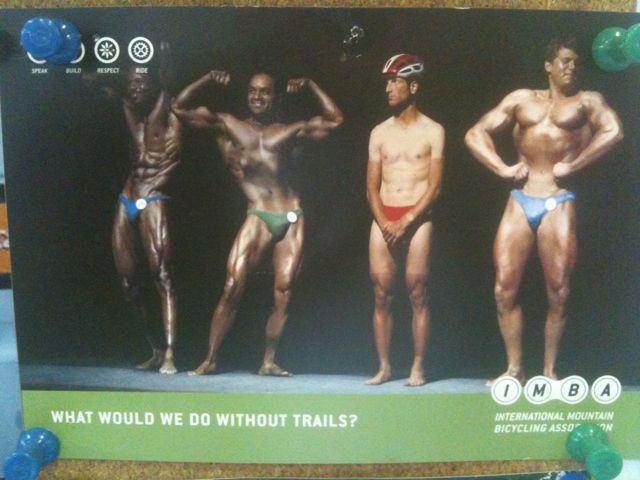 Yes, what would we do without trails?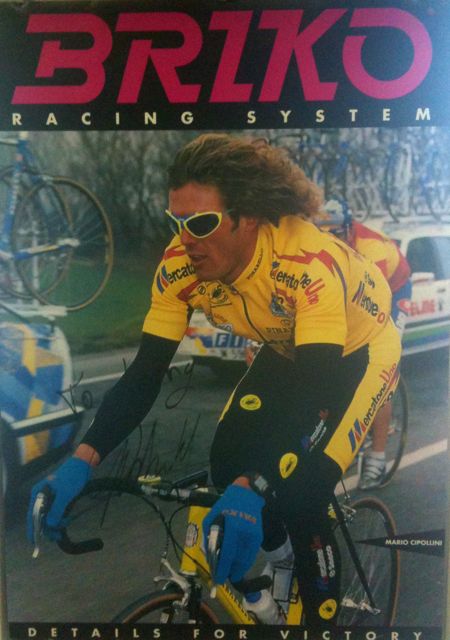 Ciao Mario! I used to wear those exact same Briko glasses in 1993…
Nashville Pro Craig Evans did the whole race in nothing but a Speedo. (Combines well with 29er) Now that is style. Not to mention the functionality. Speedos offer the ultimate in cooling and aerodynamics.  And if the god of genetics smiled upon you-  ultimate looks. All you have to do is Sharpie (Koki in South Africa) your sponsors in. Like "die Ninja" (Die Antwoord)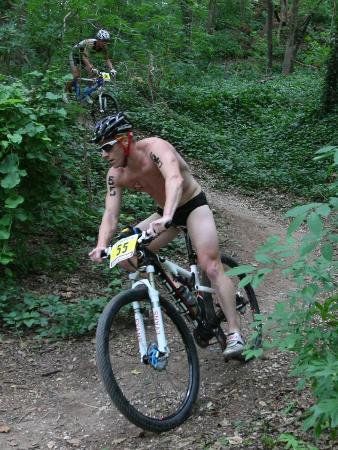 I have a whole drawer full of Speedos from the 90s, just waiting for the fashion to come back. Craig, you're at the forefront of a re -evolution!
Love the Texas BBQ culture. Braai (BBQ) and beer is South African culture too. But rugby instead of NASCAR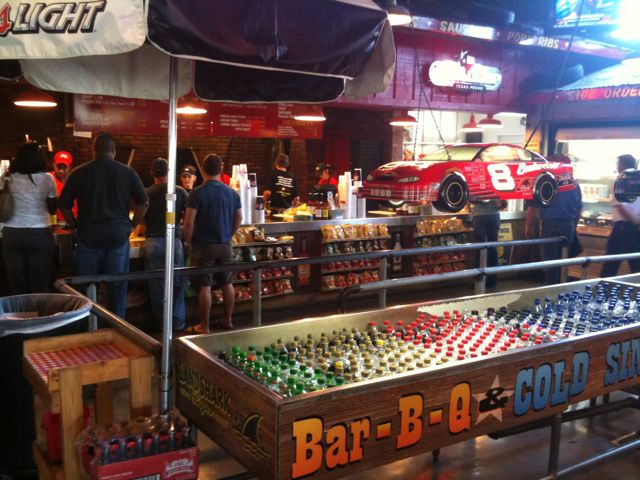 The sunday family lunch in the park Texas BBQ. (the truck was running -too keep the beer cool?)