Posts Tagged 'enduro'
Life in the life of the Caveman- XTERRA New Zealand
Created on 18 August 2015
0 Comments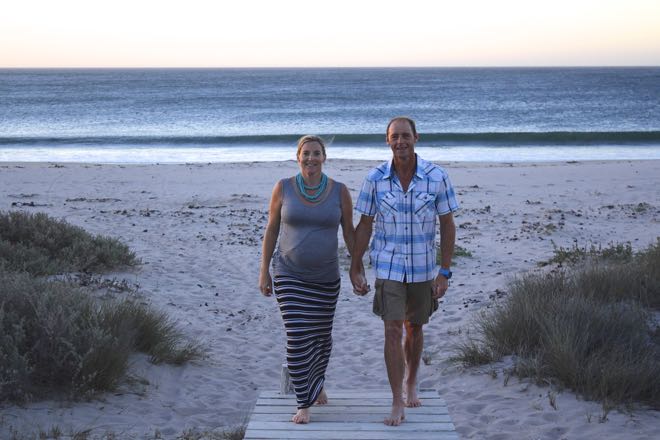 This blog has been sitting in my drafts folder for a few months- so dont be confused with Liezel being pregnant again- shes not. Just catching up on blogging and telling the story…
It was tough to say goodbye to #PrincessHotstuff and baby bump for a whole 2 weeks! Especially on a trip to her 2nd home (and Netball stomping grounds) – New Zealand and Australia.
Last year, we had an absolute blast at XTERRA New Zealand.
Which is the reason I came back here. Great course, well organized, spectacular country, and paired with XTERRA Australia – which had petty good prize money.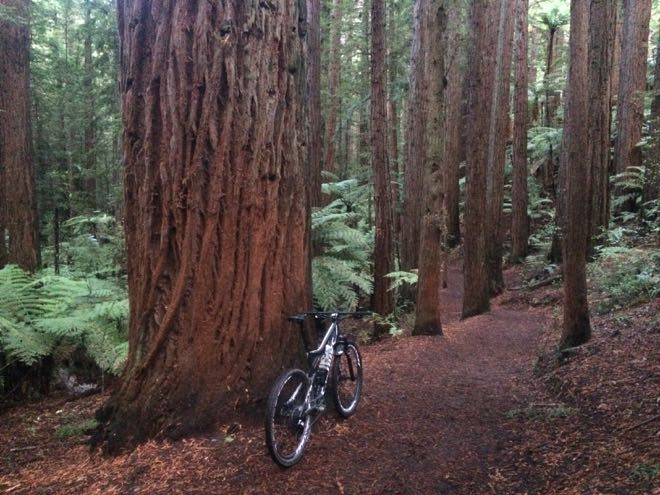 Rotorua in New Zealand is sporting paradise. In fact, coming from dry, sun scorched Africa, its is paradise with
How on earth did we survive our youths?! #ThrowBackThursday
Created on 13 February 2015
0 Comments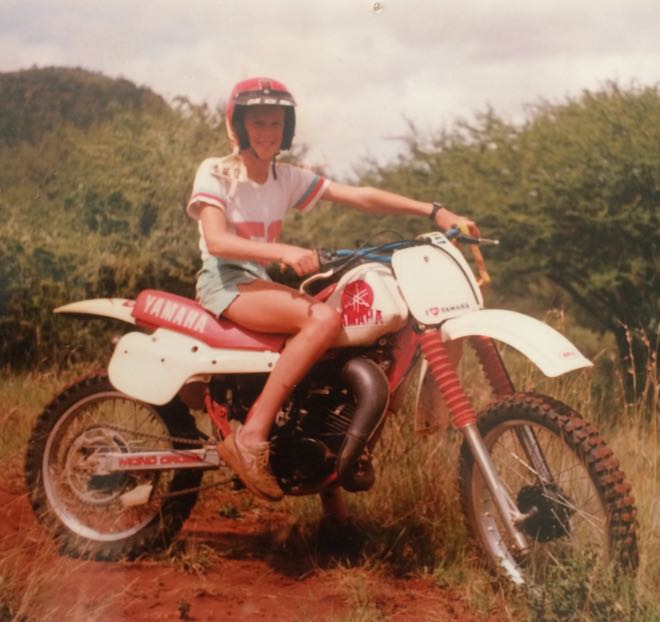 "What do you mean protective gear?!"
Its about 1987,  I'm 14 years old. On a bored out two stroke YZ 125,  I tore through dongas, thorn bushes, streams and my home made MX course- wearing nothing but worn out Nike Pegasus, PT short, T shirt and Open helmet & goggles. And a "This is awesome!" grin.
Not sure how I made it safely to (sort of) adulthood.  As I near parenthood, I've heard people talk about "babies bounce", but in hind sight, if I can help it- rather safe than sorry. Or as we modern bike riders say: "Dont dress for the ride, dress for the fall…"
A life time later- my dad and I crossing rivers (but not tearing through dongas and thorn bushes) on our
The Good, the Bad and the Ugly
Created on 12 January 2011
2 Comments
I'm a little behind with the blogging, so I'm trying to quickly squeeze a few topics into one blog.
The Good:
Long, easy mountain bike rides on the Highveld. Drinking water straight from the spring. (Fountain)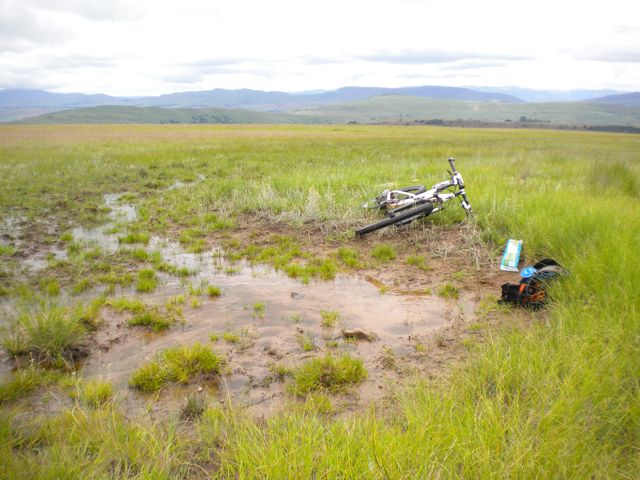 You may have to fight a frog, a tadpole and a cow pat for the freshest water,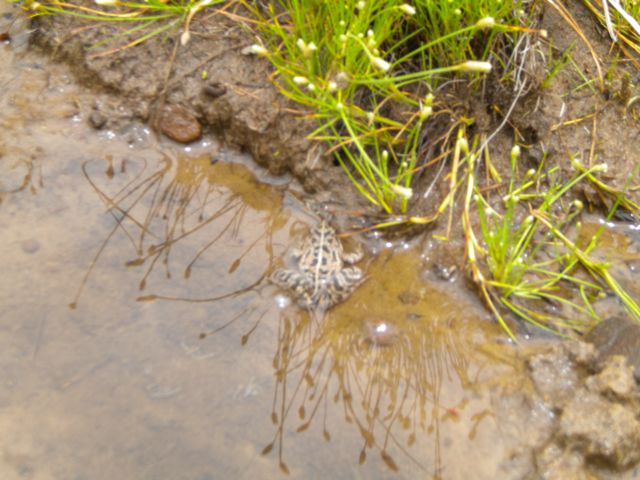 but as long as you lock the gate, no one gets hurt…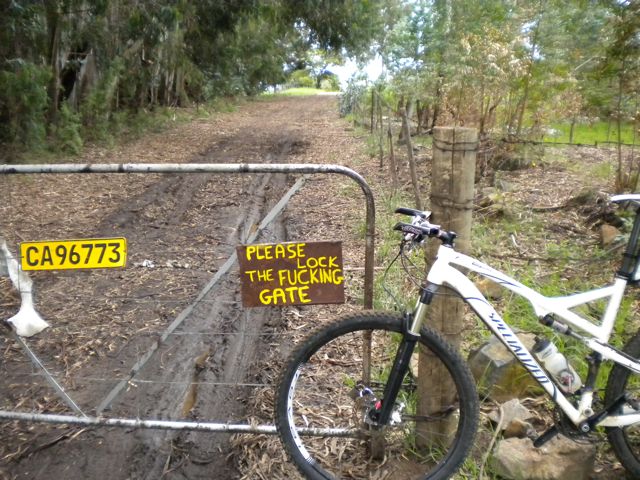 Secret pre season training
Created on 16 December 2009
0 Comments
Rest day fun activity- Caveman style
Created on 25 April 2009
0 Comments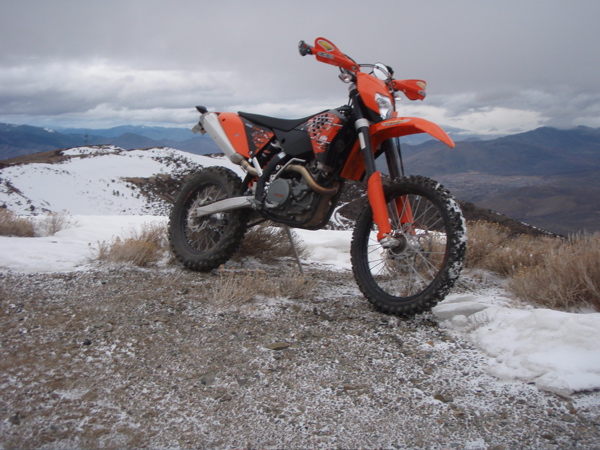 When it snows outside, you have to stay sane somehow!
For the past 11 years, Friday is my day off. Usually I'm quite broken by then and I'll be dragging most of Friday- till energy slowly returns in the late afternoon. I try to use the rest day to catch up on admin, get a massage, run errands, work on my bike, dress normally (ie not lycra) and importantly- do something really fun. Like taking the new puppy (KTM 450 exc) for a spin in the snow!
Of course I justify it as "skills training…"  I found the dirt bike makes you concentrate 110% all the time. If you dont- you'll get really hurt, really quickly. I treat this thing with more respect than a loaded gun. With XTERRA racing, you only have to concentrate (even with lactate coming out of your ears) during parts of the race. Single track, technical run sections, turn buoys in the swim… The rest of the time you just take the hurt while your brain freewheels. Mine anyway.
Apart from the mental training it really makes me feel alive. My cousin Johan has a KTM 360 – a gnarly 2 stroke beast- and Johan is only 130lbs and cant reach the ground! He did his PhD on blood parasites on reptiles- (ie catching snakes all day) a hard job. When he gets frustrated, he takes his KTM out and thrashes it- even if its just up and down the track – and comes back with a big smile and pressing with his forefinger on his chest, say: "it feels like my "refresh button" has been pressed!"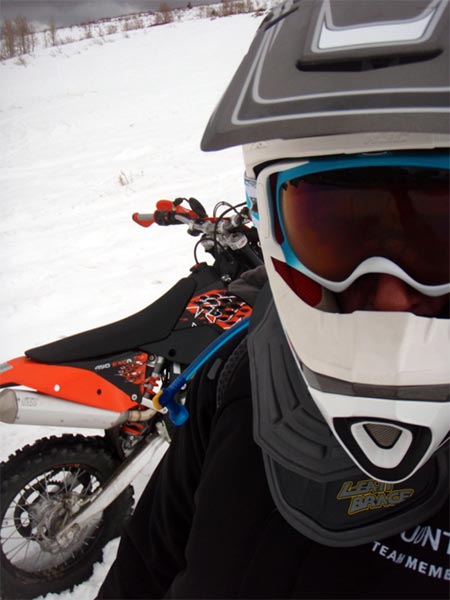 Ice Head pressing his "refresh button…"